Air Pollution Measurements for Industrial Ozone - Water Treatment, Food Processing, and Other Disinfection Applications
Ozone is now widely used for treatment of municipal water because of its greater effectiveness in killing pathogens such as bacteria and their spores and in deactivating viruses. Increasingly, ozone is being used in other industrial applications such as in HVAC systems for removing hydrocarbons and cigarette smoke from buildings, in the sterilization of medical instruments, soil and ground water remediation, preservation of fruits and vegetables during storage, processing of food products, ozone laundries, etc. These applications require ozone measurements ranging from percent levels for the outputs of ozone generators to ppm levels for process streams and ppb levels for protecting against human exposure.
The Models 106-H (high), 106-MH (medium high), 106-M (medium) and 106-L (low ozone) and the analogous 108 series instruments were designed with differing optical bench lengths in order to allow ozone measurements spanning this range of more than eight orders of magnitude. The Model 106-H is designed for measuring ozone at the percent level produced by ozone generators. The Model 106-H is a flow-through instrument with no pump and thus can be used in-line with ozone generators. The Model 106-MH measures ozone in process streams up to 10,000 ppm, Model 106-M measures ozone up to 1000 ppm, and the 106-L measures ozone down to ~1 ppb. The 106 series has two 2-level relay switches for controlling ozone, sounding an alarm, or controlling other processes based on ozone concentration. This series of instruments has a 4-20 mA output in order to interface with common industrial recording instrumentation. The 106 series of instruments are available in standard enclosures, Industrial cases, and as OEM versions with no case for those who want to include the instrument as part of a larger package. Configurations for multi-channel air sampling are available as an option for Models 106-L, 106-M, and 106-MH.

Continuous ozone monitoring of personnel working with ozone is highly recommended for health and safety issues. The UV-based Personal Ozone Monitor or POM is ideal for accurate monitoring the exposure to ozone of individual workers. Ozone sensors such as electrochemical and HMOS sensors are too unreliable to provide the safety your workers deserve.

The graphic below shows the many applications of our ozone instruments in the water treatment process.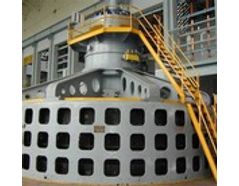 Detection of Partial Discharges in Large Motors and Electrical Generators
The Model
202
Ozone Monitor has been successfully used for detecting surface partial discharges in electrical generators of hydroelectric power plans. These discharges produce ozone by dissociation of oxygen molecules in air. For more details please see the
paper
by Louis Lépine of Hydro-Québec. Early detection of partial discharges in electrical equipment can provide cost savings by preventing equipment failures. This application requires measurements at low ppb levels of ozone. Please contact us for a quote for a complete setup for this application including Model 202 Ozone Monitor, Pelican case for storage, 10-hour external battery, sampling tube, and other accessories.