AERMOD View - Debug Output Files
When conducting an air dispersion modeling analysis with the AERMOD modeling system, modelers may encounter situations where they want to validate or verify the model's calculations. To support this, the model has the ability to generate Debugging Output Files of intermediate calculation results. This is controlled by the Control Pathway using the DEBUGOPT model keyword.
As the model's capabilities have expanded over the years, the U.S. EPA has added new debugging output files to address different features and functions. As of the AERMOD 22112 release, the debug types are listed below:
MODEL: Prints intermediate model result calculations for each source and receptor. Dispersion parameters and plume heights are displayed in this file.
METEOROLOGY: Gridded profiles of meteorological variables for each hour of data are output here.
PRIME: Contains plume rise calculations impacted by building downwash for specific point source & wind direction combinations.
NOx/NO2: For each NO2 conversion method (ARM2, PVMRM, OLM, GRSM, TTRM), details either the model's rationing techniques or ozone molar calculations. This option also includes the ability to debug the non-default TTRM2 (added in 22112) which assesses the before and after calculations when comparing PVMRM, OLM, or ARM2 against TTRM.
AREA / LINE / OPEN PIT: Calculations related to the area, line, and open pit source types.
RLINE / RLINEXT: Details characteristics of the integrated points generated along the length of line for each RLINE or RLINEXT source.
BUOYANT LINE: Prints plume rise heights and distances for all Buoyant Line sources.
URBAN: New in 22112, this option creates two output files – one for profile meteorology and one for surface meteorology – of the model-generated urban boundary layer.
DEPOSITION: Creates two separate output files – one for gaseous deposition calculations (*.GDP) and one for particle deposition calculations (*.PDP). Includes parameters such as depositional velocity. When used independently of the MODEL debug option, a separate file (DEPOS.DBG) will also be generated detailing wet deposition information.
AWMA DOWNWASH: Creates a file containing detailed information about the Air & Waste Management Association's non-default downwash options.
PLATFORM: New in 22112, this file contains details about downwash of point source emissions that occur in offshore platforms.
In AERMOD View, Debugging Output Files are primarily controlled by the Debug Files option of the Control Pathway window. Place a checkmark in the box of the file type you want to enable. The Save icon can be used to assign a different name to the file, and the Preview icon can be used after a successful model run to open the selected file in the text editor chosen in the Preferences menu.
Debugging output files for two non-default options – AWMA Downwash and Platform Downwash – can be found in the dialogs for those specific operations.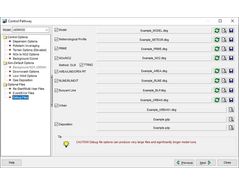 There are two important caveats to the use of debugging output files:
1. These files can print an extremely large amount of data. Because intermediate calculations are printed for every source-receptor combination and each hour of meteorological data, these files can quickly grow to massive sizes if not properly controlled.
a. It is recommended that the Debugging Output Files be used for limited project inputs - for example, a very small number of sources, receptors, and hours – in order to limit file sizes and make the data more pertinent to the modeler's needs.
2. As of AERMOD 22112, a coding bug limits the model to produce a maximum of 5 debugging output files per run. While most modeler's will not need to produce so many files, AERMOD View will issue a warning should the user select too many debug files in a single model run.