Aerospace environmental control units in a semi-tropical, salt-air environment - Case Study
The Challenge: Air Innovations was tasked with creating an aerospace environmental control unit (ECU) to support various needs of a major aerospace industry client. This client is located in close proximity to the ocean, which makes salt corrosion a concern. The ECU would need to be protected against the salt environment in order to preserve longevity. Ambient conditions were expected to be 95Fdb/80Fwb in the summer and 19Fdb/16Fwb during winter.
The Solution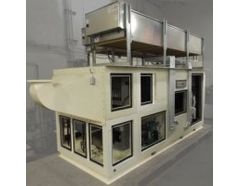 Three painted-aluminum aerospace environmental control units were needed for this project, with ECUs 1 & 2 being identical at 1,000-4,000CFM capacity and ECU 3 being at 500-1,800CFM capacity. All three aerospace cooling units capitalize on once-through air delivered at 36" wc static pressure and feature salt-environment protective coatings to prevent corrosion from the salt environment. These aerospace environmental control units were designed to control temperature to within ±5°F for any set point in the range 70-95°F and include humidifiers to keep humidity within 30%-50% RH. The finished products also include hot-gas bypass refrigeration control variable speed scroll compressors and electric re-heat.
As part of the solution, Air Innovations provided an on-site start-up technician to complete post-shipment start-up and training.
The Result
Three separate painted-aluminum aerospace environmental control units were created for this project
Each ECU measured 16'L X 6.5'W X 11'H
The ECUs used once-through air, controlled remotely by control-room computers
70°F – 95°F ± 5°F temperature control; 30% – 50% RH ±2% RH
Variable speed-scroll compressors and hot gas bypass were used to manage refrigerant unloading
Humidification capacity equals 172 lbs/hr (ECUs 1 & 2) and 85 lbs/hr (ECU 3)
60 kW (ECUs 1 & 2) and 30 kW (ECU 3) of electric re-heat
ISO Class 8 filtration to 99.95% @ 0.3µ HEPA
Designed for 20-year life
Most popular related searches