AGI Scotland - Working Better Together
Almost a year ago Geomni were in Edinburgh for AGI Scotland 2020. At the time it was just another event, but as it turned out it was the last in person conference we attended before the COVID-19 lockdowns. A year on and we were delighted to sponsor AGI Scotland 2021, this time as a 'virtual' experience.

Spread across two days the event was as vibrant as ever with high calibre speakers providing a wide range of presentations based around the 'Working Better Together' theme. The day one Keynote looked at bringing diverse resources together for hazard mitigation, and day two highlighted Scotland's Geospatial initiatives.

Other presentations given over the two days covered a wide range of subjects including: mapping volcanoes in Guatemala in 3D to help local awareness of hazards and risk, and Colouring London, a community mapping initiative to capture building characteristics.

Scottish-focused presentations including:
Location Data Scotland - Developing Scotland's Geospatial Community (Dr Ashley Stewart)
ScotlandIS and the role of Clusters (David Ferguson)
The One Scotland Gazetteer: A tale of collaboration (Ron Wilkinson & Roger Garbett)
Scotland's Geospatial Initiatives (Alan Corbett & Bruce Jackson)
highlighted the strong community that is always a clear characteristic of events we attend in Scotland. Scotland's innovation and leadership in bringing together technology, innovation, and skills to develop business opportunities was obvious to see.

The 'virtual' experience extended to the networking sessions where Geomni, and other gold sponsors, hosted tables for discussions and circulated around the conference hall. This presented some new challenges: what is the etiquette for a 'virtual butt-in' to someone else's conversation?

A few smaller tables of only two or three chairs would enable delegates to find a space for a more private conversation. A small improvement if we are to continue in the virtual world.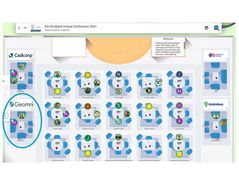 It is clear that whether a conference takes place in the 'virtual' or 'actual' world the more you participate, the more you get out of it and although we are still learning; the technology used for this event did make participation in the networking sessions straightforward. The presenters who stood in, at very short notice, to cover for colleagues experiencing technical issues presenting from home may not share our positive opinions…
Having heard from both speakers and delegates about the work AGI Scotland and the wider Scottish Geospatial community undertake, Scotland not only provides leadership and innovation but also executes well on delivering their forward-thinking plans. Scotland continues to set the standard for excellence for collaboration with the wider IT industry, innovation, and initiatives to deliver mutual benefit.
The conference was free to attend but the organisers suggested donations to Map Action, the charity delivering mapping support to emergencies around the world. They have not yet reached the donation target so please consider donating here.
From all at Geomni, thank you to the organisers for your hard work.
Most popular related searches