An introduction to indoor mapping with ArcGIS
Digital maps have become an increasingly important part of our daily lives and are now used by billions every day to explore, navigate and learn more about our home planet.
In this post, I'll be introducing the concept of indoor mapping and how organisations across the UK, from airports and power plants to hospitals and universities, can benefit from adopting this approach for the operation and management of their facilities.
Background
For the past two decades, digital mapping companies have been creating incredibly detailed maps, from vast river networks and mountain ranges, right down to street furniture and local business information. However, until recently, there were spaces on these maps which remained blank; the insides of buildings.
To address this, some of the larger consumer mapping providers, namely Google and Apple, have been working with large facility owners to map their indoor spaces.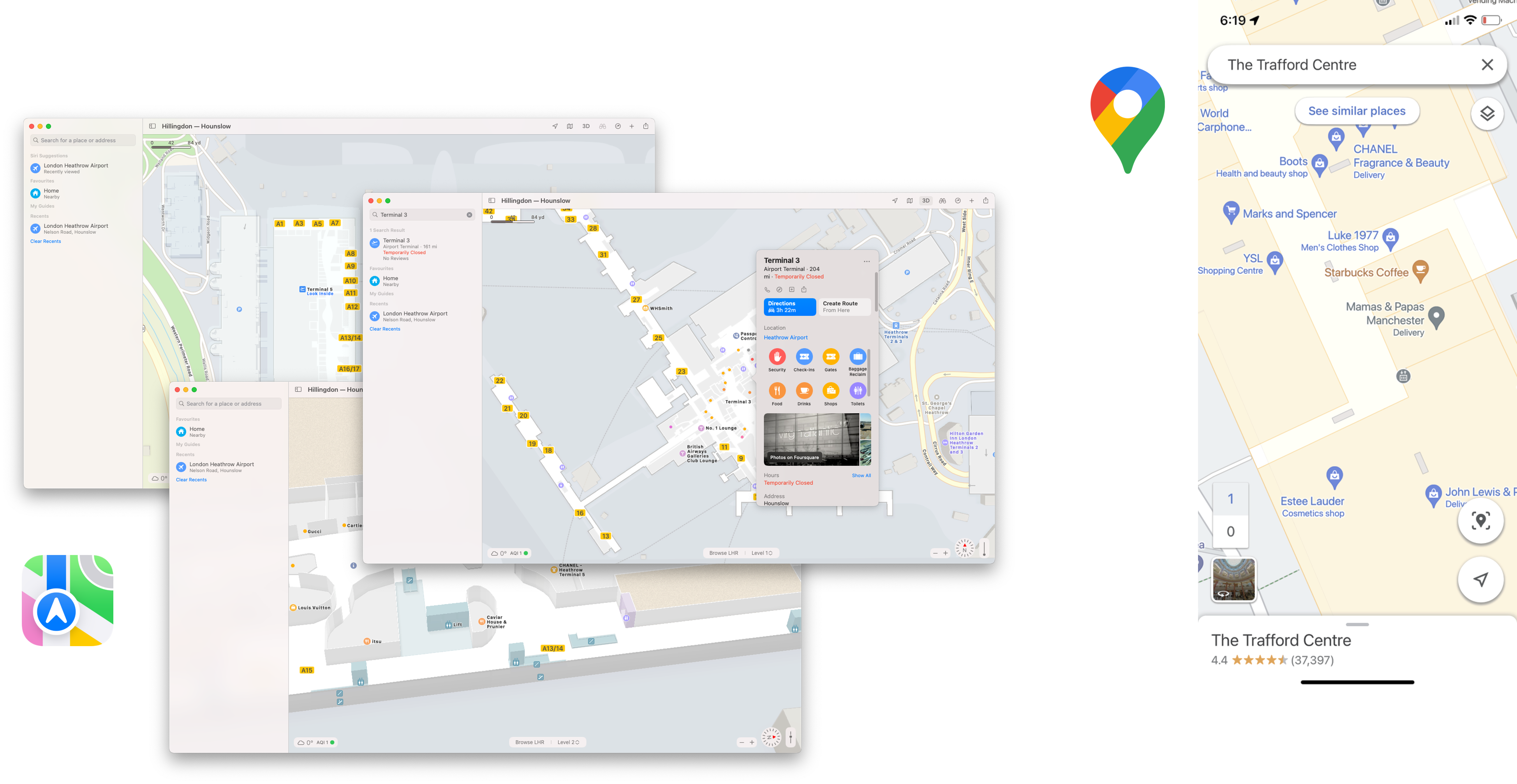 Left: Apple Maps showing Heathrow Airport, Greater London | Right: Google Maps showing The Trafford Centre, Greater Manchester.
The shared vision is that when visiting an airport, museum, or local amenity, our devices should be able to navigate us directly to the gate to board the aircraft, take us to a specific exhibit or help us to find a coffee in a busy shopping centre.
At Esri, we too have been seeing the demand for indoor maps, mainly for the effective operation and management of indoor spaces. While Apple and Google focus on the consumer experience, we have been supporting businesses for more than 50 years to deploy geospatial infrastructure for the recording, analysis and sharing of spatial information. Until now, our tools have mainly been applied to the "outdoor" world, but our customers now want to receive the same benefits for their indoor spaces.
Our facilities are transforming
We often hear from organisations about the challenges they face when managing large facilities and indoor assets.
Facility owners and operators typically rely on CAD or BIM for their floorplans as this information is readily available following the design phase of a building's lifecycle. However, these detailed architectural drawings have several disadvantages as they were never intended for the ongoing management of a facility.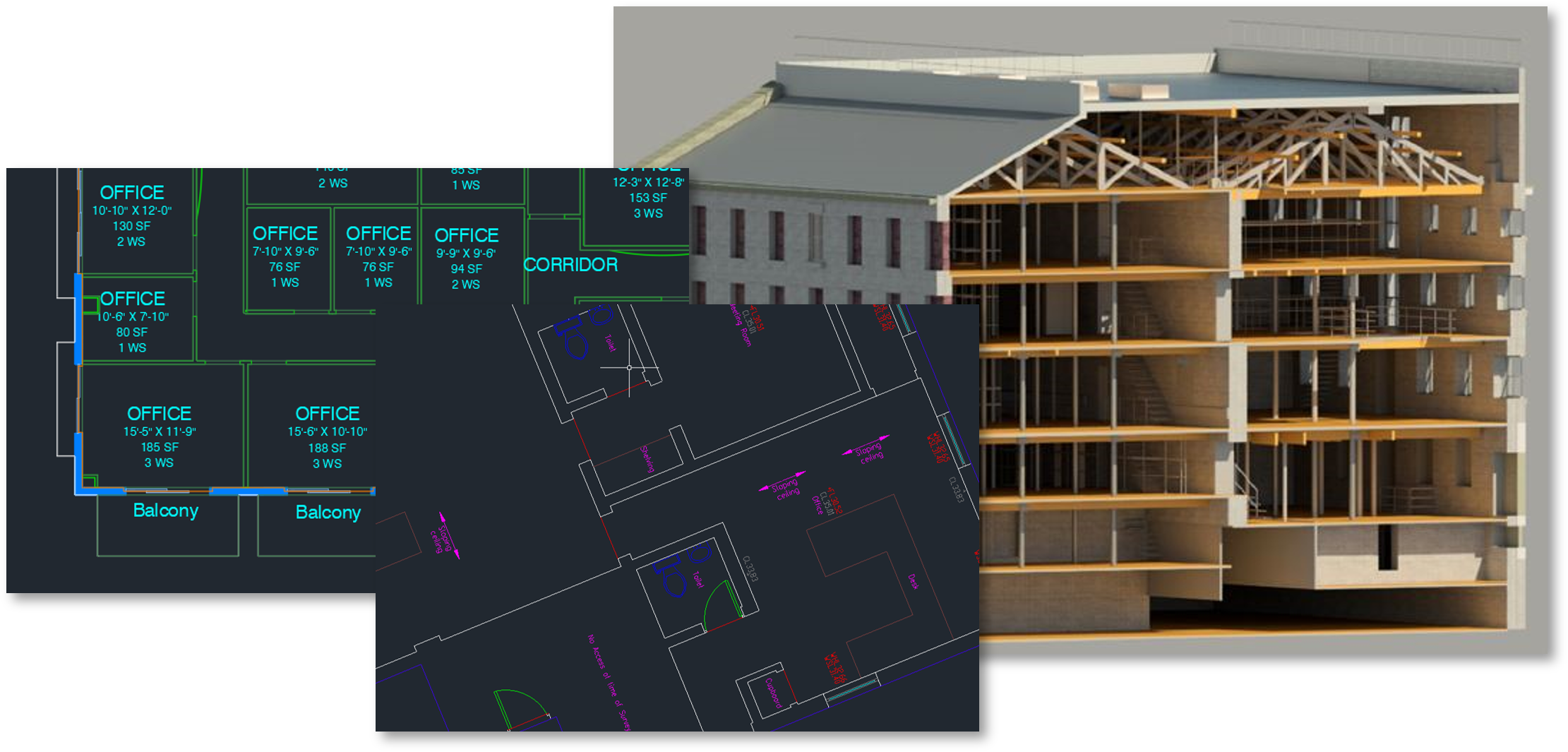 Example of CAD and BIM data organisations use to manage their facilities today. Images courtesy of Tetra Tech, a Esri UK Partner.
In addition, the growth of historic and real-time data, related to buildings, assets, and people, means facility teams are now managing multiple information systems which are often inaccessible to the rest of the organisation.
Our facilities and the way we interact with them are transforming at an incredible rate and we need to use technology to mitigate rising operational costs, create safer workplaces and explore new ways to better utilise our indoor spaces.
How Esri can help
As with traditional GIS use cases, location provides the common link between floorplans, assets, and business information. However, the indoor environment introduces unique challenges, such as the need for information to be 'floor-aware'. Another key difference is dynamic positioning. When inside a building, GPS coverage is significantly limited and doesn't account for transitioning between multiple floors.
To address these challenges, we have developed several new capabilities and wrap them up in a product we call ArcGIS Indoors.
ArcGIS Indoors compliments the ArcGIS system and, once deployed, customers are free to use familiar capabilities including, spatial analysis, reporting, dashboarding, data collection and sharing.
ArcGIS Indoor Information Model (AIIM)
At its heart, ArcGIS Indoors provides a series of tools to create an indoor information model. The AIIM underpins how we work with indoor data across the ArcGIS system.
For most, these tools are used to convert legacy CAD and BIM into the AIIM. However, for organisations without existing floorplans, we have partners who can survey buildings and supply the AIIM ready-to-go.
It's worth noting that the AIIM is interoperable with Apple's IMDF format, meaning organisations who have already worked with Apple can convert their maps to Esri's AIIM. In addition, Esri customers can export to IMDF and submit for inclusion in Apple Maps.
The AIIM unlocks floor-aware mapping across desktop, mobile and the web. A bespoke UI allows users to explore buildings in 2D and 3D.
Indoor assets
The AIIM enables building owners and operators to have a consistent view of their estate, however, the true value is realised when assets are overlaid and links to existing business information systems (CAFM etc.) are established. The type and amount of asset information will vary based on the building type and purpose. With location as the glue, organisations can link together disparate systems, enabling more efficient data sharing across the enterprise.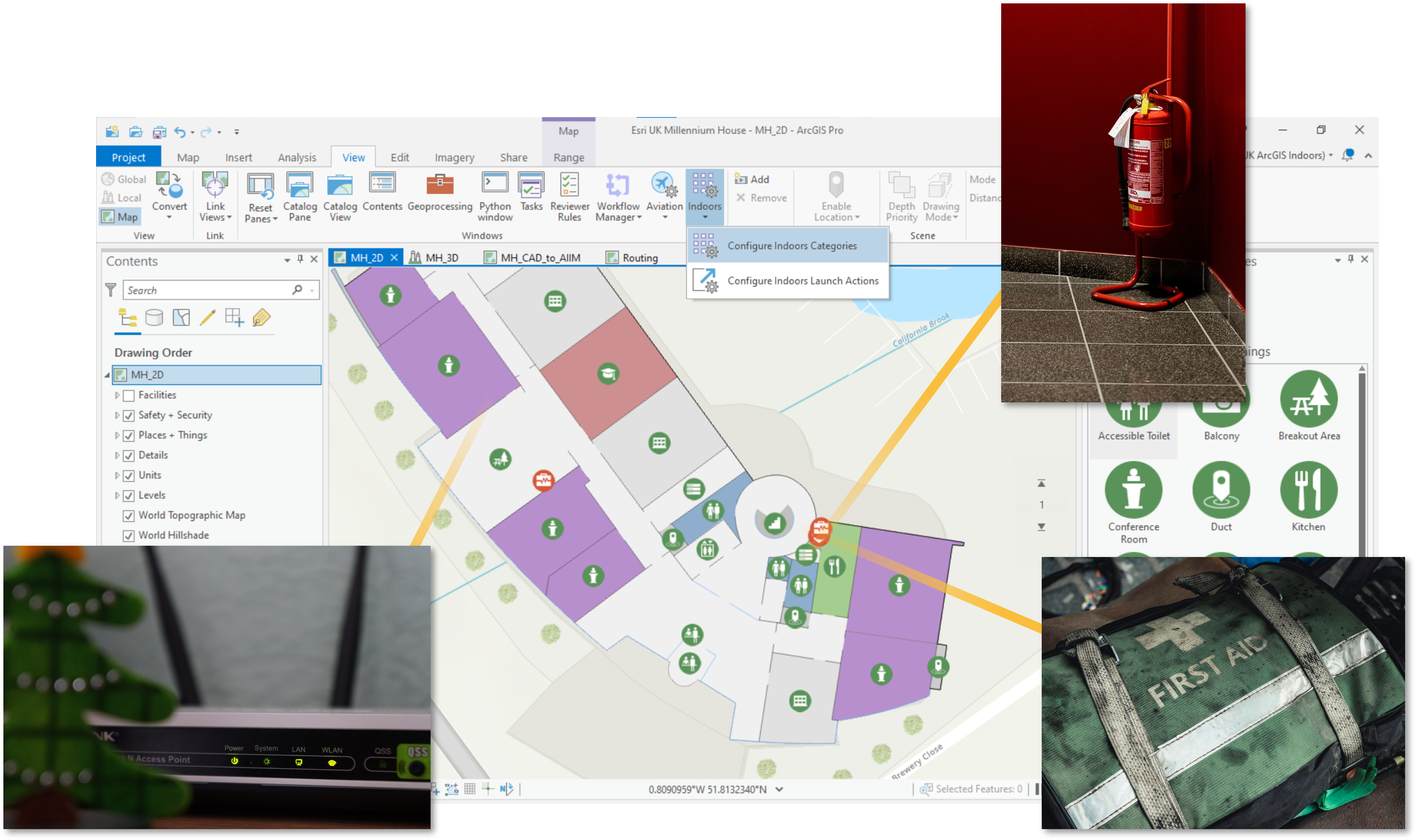 In an office environment, Wi-Fi access points are often used to infer utilisation as they can report in real-time the number of devices connected to a single router.
Raleigh Water in North Carolina uses ArcGIS Indoors to map vertical assets at their water and wastewater treatment facilities.
Indoor routing
ArcGIS Indoors also provides tools to configure routable networks through an indoor space. These can be used for analysis (e.g. safety planning) or for dynamic turn-by-turn navigation. Indoor networks account for floor transition points, such as stairs, lifts and escalators, and can be weighted to allow for route parameters. For example, accessible routes considering the floor load capacity when moving heavy equipment.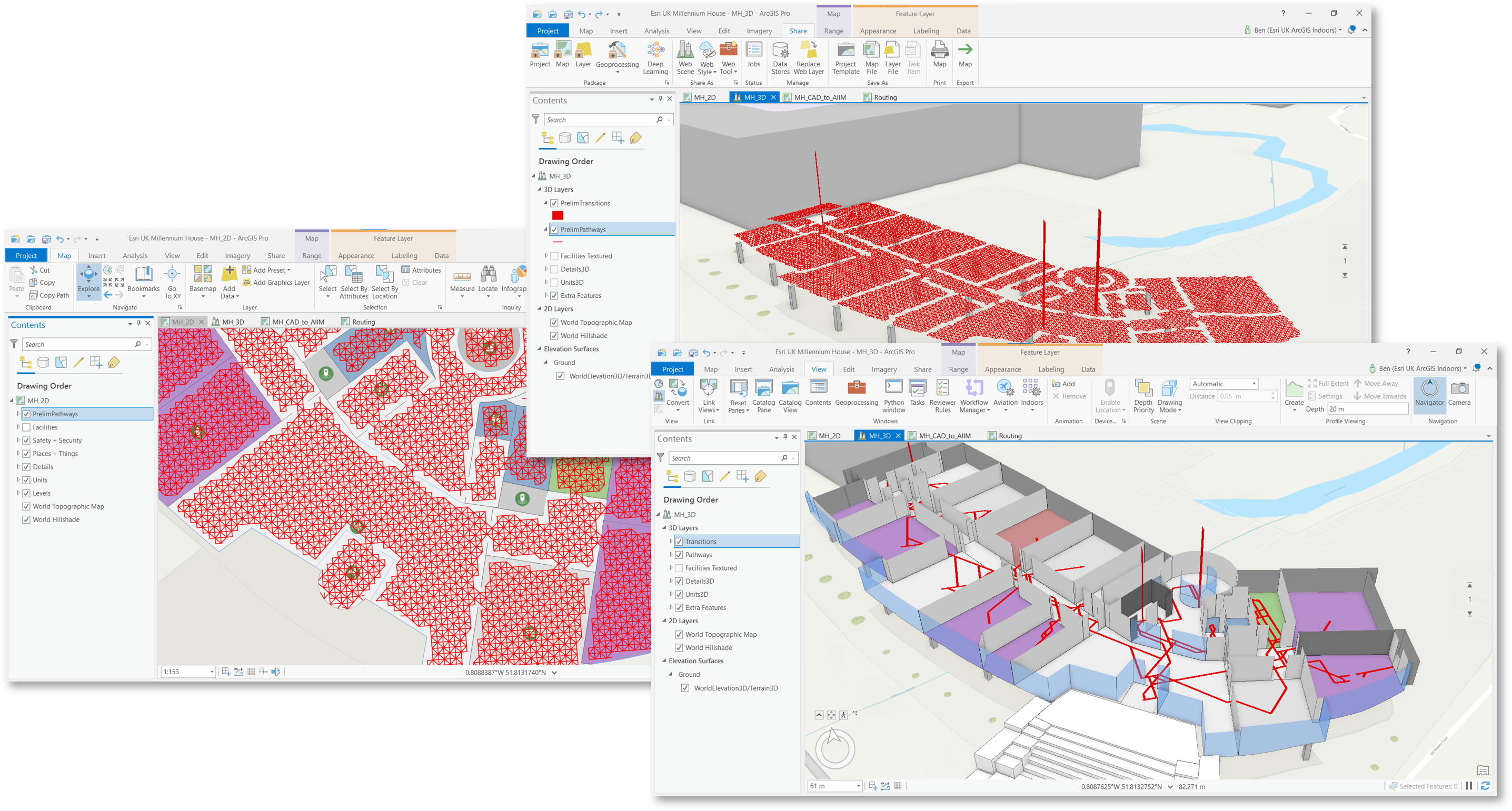 Creating a routable network inside a building.
Indoor positioning system (IPS)
As mentioned, GPS isn't reliable inside a building and doesn't account for transitioning between floors. Instead, we need an indoor positioning system which uses existing Wi-Fi points or Bluetooth beacons rather than satellites.
Esri don't provide beacon hardware (although we do have recommended partners), rather we supply the software to interface between the beacons and ArcGIS. User devices can switch seamlessly between GPS to IPS to provide an accurate position, whether indoors or outdoors. Indoor positioning can be used for navigation/wayfinding, tracking, location sharing and data collection.
Summary
ArcGIS Indoors can be purchased as a standalone indoor mapping solution or added to an existing ArcGIS deployment. The capabilities can be delivered as SaaS, through a managed service, or deployed on-premise for disconnected workflows.
These capabilities and our licencing model can scale to support projects anywhere from a small office all the way to a vast power station with thousands of buildings.
If you are interested in exploring your indoor mapping requirements, we'd love to chat. You can reach us at sales@esriuk.com.