Are Reservoirs the Way to Deliver Water Resilience?
The topic of water resilience is something that we can all expect to see hit the headlines with increasing frequency around the world as time goes on… and it's something that even the UK will have to consider, despite its famously wet weather and damp climate.
Of course, the realities of climate change really did hit home for us here in Great Britain this summer, with scorching temperatures being recorded in July.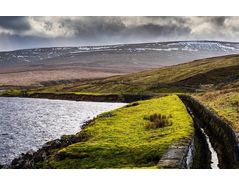 Even now, large swathes of the country are classified as being in drought status, so the question must be asked: Just how can we go about building water resilience into our infrastructure so we can be assured of supply, no matter what happens in the future?
Water resilience refers to how well water supply systems are able to recover from shocks, whether that's changes in climate and weather patterns (such as increased rainfall variability, increased temperatures and so on), a rise in demand driven by population growth or extreme weather events like drought or flooding.
Unless action is taken to shore up supplies, water shortages could easily become a regular occurrence, having an impact on the environment, the economy and wider society. But the good news is that there are lots of solutions available that could help reduce pressure on freshwater supplies, safeguarding resources for future generations.
One potential solution is to build more reservoirs around the country, something that has been put forward by leading water experts as necessary if the UK is to remain resilient in the face of climate change.
According to New Civil Engineer, a new drinking water reservoir hasn't opened anywhere in the UK since 1992, when the Carsington Reservoir in Derbyshire was completed.
There are some projects still in the pipeline, such as Portsmouth Water's site in Havant, although this isn't expected to open until 2029. And, although Anglian Water has plans for two new reservoirs, they won't be operational until 2035 at the earliest.
The news source goes on to suggest that there is an apparent link between the privatisation of water companies (which happened in 1989) and the cessation of new reservoir construction.
While the Environment Agency has been busy constructing various flood alleviation reservoirs, water firms themselves have not made any further investments in potable drinking reservoirs since then.
However, there is a growing national need for new reservoirs – as highlighted by the recent heatwave and ensuing drought conditions.
Speaking to the news source, Ed Beard – assistant director with the National Infrastructure Commission – explained that a gap has started to appear between available resources and the water that's required for public supply.
He said: "We fear there's a one in four risk of severe drought across much of England in the next 30 years unless action is taken. The Commission has calculated the overall capacity gap could be as much as 4 billion litres a day by 2050. New storage and transfer systems have a key role to play in meeting that gap, alongside water efficiency and reducing leaks."
NIC calculations indicate that there will need to be a £20 billion investment into new supply infrastructure and addressing the problem of leakage by 2050 in order to address the gap in capacity.
Mr Beard went on to note that part of the problem is just how long it takes to build reservoirs. It can take time to secure planning approval and, even once this has been granted, it typically takes approximately ten years for construction to reach completion.
He added: "[Reservoirs] are huge civil engineering projects. Fundamentally, you are digging a huge hole in the ground or blocking up a valley. There is no getting around the fact that you are using a large expanse of land and the construction work will inevitably be disruptive and costly.
"And there is the added challenge of the fact that, in many cases, it will not necessarily be the local population who will directly benefit from the additional supply."
As such, it seems that although reservoirs do represent an essential part of the solution for water resilience, a more diverse approach will be required to ensure that there is no single point of failure.
A recent UK Parliament research briefing suggested that it is important to have access to a range of different sources, such as both groundwater and reservoirs to help make supply more resilient and less reliant on just one type.
A twin approach to water resilience could focus on demand management, including leakage reduction, changes in consumer behaviour, water metering and water-efficient product/property design, coupled with prioritising supply infrastructure and ensuring long-term investment in groundwater abstraction, reservoirs and water transfer between regions.
Society, economy and public health are all underpinned by a reliable source of good quality water. In the UK, climate change and population growth impacts on water supply services could mean that we need to make some radical changes in how we manage our water resources in order to increase their resilience.
The parliamentary report suggested that an integrated approach to water management be adopted, where dialogue between stakeholders remains open across sectors so as to drive more inclusive decision-making frameworks and identify acceptable opportunities for multi-sector collaboration and investment.
In order to facilitate this, organisational, psychological and social barriers will need to be overcome to help improve communication between policymakers, stakeholders, scientists and the general public.
It was further noted that long-term resilience could also be provided by viewing the natural environment as an asset, instead of merely an exploitable resource. Changing the way in which the natural world is looked at could help make significant inroads where drought, water scarcity and climate change are concerned.
Do you want to find out why water efficiency is important? Get in touch with the H2o Building Services team today.