The Geological Institute of Romania, located in Bucharest, was founded in 1906. It is famous for its museum which hosts a collection of more than 80,000 samples of rocks, fossils and minerals from all over Romania.
Oana-Claudia Barbu and Daniel Bîrgăoanu are both PhD students and research assistants in the electron microscopy laboratory, known as MICROCOSMOS, where they study inorganic and mineral samples. They use Renishaw's structural and chemical analyser (SCA) interface to bring the Raman analysis capabilities of the inVia™ confocal Raman microscope to their scanning electron microscope (SEM). The inVia and SCA interface provide an in-SEM analytical technique that allows co-located chemical information and the flexibility of a fully functioning Raman microscope.
Ms Barbu commented, "This allows us to perform high resolution analysis on geological samples using energy dispersive spectroscopy (EDS) and Raman spectroscopy. Our Zeiss SEM is also equipped with electron back scattering (EBSD) and wavelength dispersive (WDS) detectors to give even better correlation of results. The system is easy to use and has user-friendly analysis software (WiRE 4™) that provides us with high definition chemical images from our very large Raman datasets. We greatly appreciate the strong support we have received from Renishaw."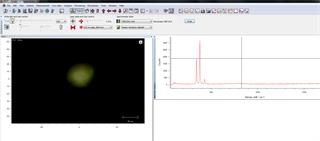 Raman spectrum and EDS analysis of pyrite
In both the Raman spectrum and EDS analysis, the metallic mineral content is identified as pyrite.
An example, typical of their work, is the study of mining waste to better understand its composition. In both the Raman spectrum and EDS analysis on the right, the metallic mineral content is identified as pyrite (iron sulphide, FeS2).
About Renishaw
Renishaw is one of the world's leading engineering and scientific technology companies, with expertise in precision measurement and healthcare. The company supplies products and services used in applications as diverse as jet engine and wind turbine manufacture, through to dentistry and brain surgery. It is also a world leader in the field of additive manufacturing (also referred to as 3D printing), where it is the only UK business that designs and makes industrial machines which 'print' parts from metal powder.

The Renishaw Group currently has more than 70 offices in 35 countries, with over 4,000 employees, of which 2,700 people are employed within the UK. The majority of the company's R&D and manufacturing is carried out in the UK and for the year ended June 2016 Renishaw achieved sales of £436.6 million of which 95% was due to exports. The company's largest markets are the China, USA, Germany and Japan.

The Company's success has been recognised with numerous international awards, including eighteen Queen's Awards recognising achievements in technology, export and innovation. Renishaw received a Queen's Award for Enterprise 2014, in the Innovations category, for the continuous development of the inVia confocal Raman microscope.