Background
Wuhan is the capital city of Hubei province in central China which has 166 lakes that cover 2,217 square km approximately counting 25% of the city. Its water coverage is one of the world's highest.
The Wuhan Environmental Protection Bureau is responsible for monitoring the surface water quality by surveying a subset of 50 lakes of their temperature, conductivity, pH, dissolved oxygen and turbidity on a yearly basis. Before using the Oceanalpha ESM30 water quality sampling & monitoring boat, WHEPB needed three months to do this by taking a manned boat into each lake.
Solution

After the operator programs the task with a portable control station on shore, the Oceanalpha ESM30 USV works autonomously based on GPS navigation. The USV carries a multi-parameter sonar connected to a flow cell and an on-board pump. By using the ESM30, WHEPB surveyed 50 lakes in 14 days with a 640% improvement in efficiency. Additionally, the USV improves working safety by keeping operators away from the hazards of water accidents.
Equipment

– ESM30 Water Sampling & Monitoring Boat
– ESM30 Control Station (come with the USV)
– Multi-parameter water quality sonde (come with the USV)
– Flow cell (come with the USV)
Wuhan lakes cover nearly 25% of the city

Two people can easily take the ESM30 from site to site in a field vehicle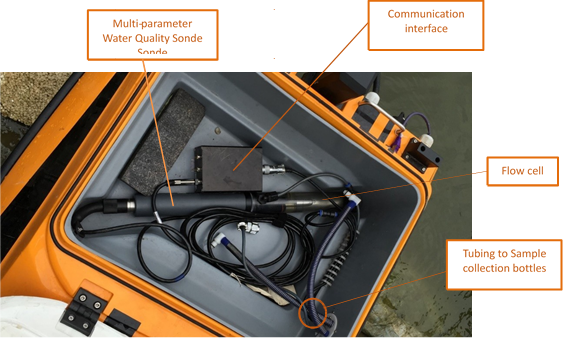 Equipment of ESM30
Water sampling box
Users can program the USV to collect a 1.8L water sample from four different points during a mission and store in the onboard water sampling box.