Highest Demands on the Fitting Technology
Protecting our environment requires sophisticated plant and process technology. Thus, the requirements of the planners and operators of systems for water technology to the reliability and reliability of the fittings are used. In addition, planners, plant constructors, as well as the operators in the selection of the valves oriented from an economic point of view increasingly oriented to universally applicable products with mounting advantages and a high degree of operational safety. The highest demands are placed on the quality and ease of use of the valves.
When choosing sanitary fittings, both the type of coating and the approvals available are of utmost importance. Valves with quality mark comply with the requirements for 'heavy corrosion protection". This guarantees the user a perfect and tested coating quality on epoxy basis and thus the safe and reliable coating, which is also suitable for use in drinking water systems.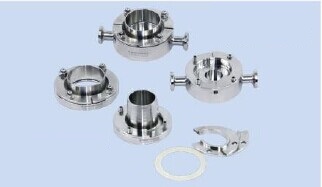 Coating Thickness Testing Epoxy technology is the most advanced coating process to date. In this case, a coating powder is sprayed onto the sandblasted and heated fitting housing and melts this. An all-round coating with layer thicknesses of 250 microns guarantees optimal adhesion and lasting protection are against external influences. The quality label is awarded only to manufacturers who meet the high requirements of comprehensive quality assurance.