Sustainable Airport Cities
Schiphol's water cycle is comparable to that of a small city. The location therefore provides a good context for a pilot project with the sustainable recovery and reuse of phosphate. Removal of phosphate from wastewater from the airport and the aircraft will ensure that the quality of the water at and around the airport will improve. The treatment process is more efficient and requires fewer additives, such as chemicals.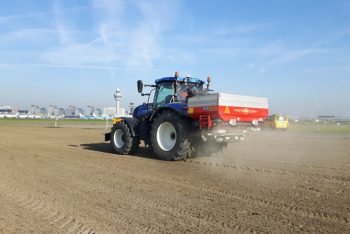 During the pilot project, phosphate was recovered from wastewater from the airport in the form of struvite. The formed struvite has been analyzed for composition, contamination with pathogens and micropollutants. The crystalline component of the product formed was found to consist of 96.8% of struvite when recovered from centrate.This was 100% when extracted from faecal water. From the first microbiological measurements by means of indicators, the recovered struvite appears to contain fewer pathogens than the raw material from which it was made. However, the product is not completely free. Since only low concentrations have been measured and people and animals at Schiphol do not have much contact with them, application of the product seems safe. The measured concentrations of micropollutants in struvite from centrate and faecal water are in the same order of magnitude, which is far below the legally permissible maximum values (Table 1 and Table 4 of Appendix II of the Decree Implementing the Fertilizers Act).
Based on these results, we conclude that phosphate recovery through struvite production at Schiphol seems feasible, even though this is on a relatively small scale. An important condition for struvite recovery is the introduction of biological phosphate removal at the wastewater treatment plant.
The struvite that was formed during the pilot project has now been deployed at Schiphol's runways .
Facts and Figures
Amsterdam Airport Schiphol has more than 50 million passengers a year

Approximately 60 m³ / day of wastewater from aircraft toilets.

Wastewater treatment plant of approximately 45,000 resident equivalents

Potential phosphate recovery up to 100 kg of struvite per day
Investments
This project was co-financed by the Supplement for Top Consortia for Knowledge and Innovation (TKIs) of the Ministry of Economic Affairs.