Water Treatment plants for customized applications is our forte.. Treatment Plants for critical applications in various Pharmaceuticals etc have also been supplied.
Pretreatment Equipments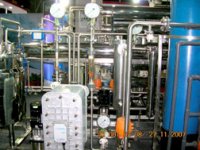 Equipments used in the preliminary stages of water treatment.
Multimedia Filters
Activated Carbon Filters
Micron Filters
Bag Filters
Ion Exchange Systems
Equipments used, to reduce minerals and hardness in water.
Softners
Demineraliser
Mixed Bed
Membrane Systems
Equipments used to polish the water to desired levels of process requirements.
Reverse Osmosis Systems [Single and Double Pass]
Nanofiltration
Ultrafiltration
Electro de ionization
Microbiological Treatment Equipments
Equipments used, wherein microbiological activity is deterrent to the final product or the process.
Chemical Dosing Systems
Ultraviolet Sterilisers
Ozonators
Absolute Micron Filteration
For critical water generation and distribution projects in the pharmaceutical industry for USP grade systems we provide
For System Manufacturing and Integration,
URS/FRS/FATS, Process Safety Analysis [PSA], Process Safety Management [PMS] Programs.
For System Commissioning And Validation
GMP Audit, SOP Development, O & M and PM Manuals and Training, DQ/IQ/ /OQ/ PQ Equipment
For Industry Compliance
ISO,ASTM, NCCLS, PHARMACOPOEIA