Date: April 16, 2019
Location: A River Section Near Youyi Bridge in Xiangyang City, Wuhan
Facility: SL20 Autonomous Survey USV
River condition: Relatively strong wind, waves over 10cm high, with ships passing by.
Mission: Utilize the SL20 USV to survey the underwater topography and section of this river sector systematically to generate a three-dimensional coordinate system for later mapping processing
Survey area
The survey area is 150m away from Youyi bridge. In this areathe river is of 200 to 300 meter wide, water depth is majorly between 3 to 12 meter, the flow velocity is about 0.8m/s. This section is a navigable section with vessels constantly passing by. The survey area is shown below:
Pic 1-1 Maps of the survey area
Facility
The SL20 Autonomous Survey USV
The SL20 Autonomous Survey USV is a new generation of survey vessel integrating navigation system, GNSS Global Positioning System and highly accurate bathymetric surveying system. It has the following advantages compared with a tradition survey boat:
The USV can navigate autonomously with the built-in navigation module. With a light hull weight and low draft, it can survey on shoals, reef areas and other dangerous places with great flexibility, saving labor cost, improving working efficiency and personal safety.

In a traditional surveying mode, it's never easy to find a suitable survey boat to work on different water environments, either on suburb rivers or on remote reservoirs. An unmanned surface vessel weighing only 20kg can be transported by a car or lifted by two people with ease, which can save lots of time and effort from boat selecting, renting and transportation.

The USV can navigate and survey autonomously tocomply with the survey line with high accuracy.

The USV can be mounted with GNSS receiver, ADCP, side scan sonar and other sensors basing on different requirementsto achieve different functions, such as bathymetric surveying and water quality monitoring.

The survey data can be stored on the USV during the survey process.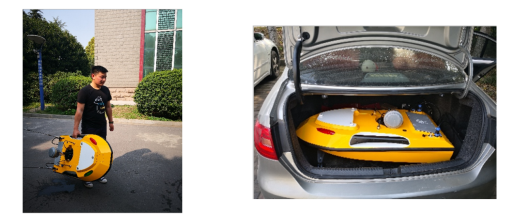 Problems can be solved by the unmanned boat surveying system:
On unnavigable water areas like reservoirs andsomeinland rivers:
The manned boat can'treach a specific survey area by sailing, which can cost lots of time and labor to transport the boat to the target spot.
On shoals, shallow water, and reef area:
The manned boat can'tsail smoothly because of the deep draft.

The manned boat is inflexible enough to collect complete data and surveyorshave to collect data

Surveying on unclear water area manually care can post threats to personal safety.
On polluted water area:
The polluted environment can be hazardous to the human body.
Application area
Survey of underwater topography and sections of rivers, lakes, reservoirs, etc.;

Reservoircapacity measurement;

Hydrological survey;
Positioning terminal
Mobile Station: Southern Galaxy 1
Base Station: Southern Galaxy 6
Software
Southern Freedom software, dedicated for unmanned boat operation, integrates functions including USV navigation, data collecting, storing and post-processing.
Execution
Process
Connect hardware of the USV and test the software.

Setup thebase station, usethe mobile station for parameter conversion and coordinate point correction;

Inputparameters into the software to perform coordinate comparison of the measurement points to ensurethe accuracy of the coordinate system;

Using known points for survey lines setup, upload survey lines and get the USV to start

Process and delete false bathymetric data.

Modify data thenoutput.

Use the Southern Cass software to generate a map.
Result
Data output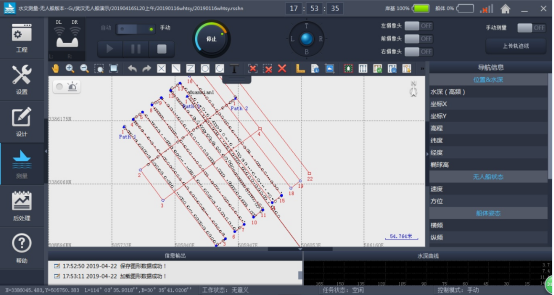 Pic 6-1 Autonomous survey lines of the USV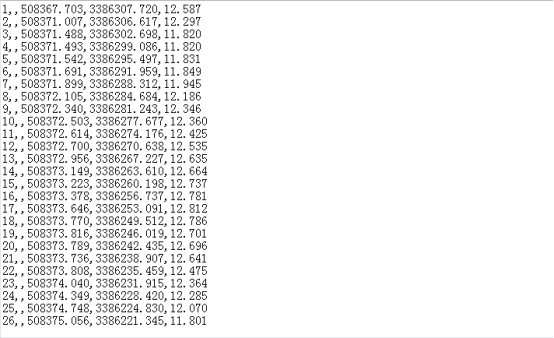 Pic 6-2 Southern Cass data (.dat format)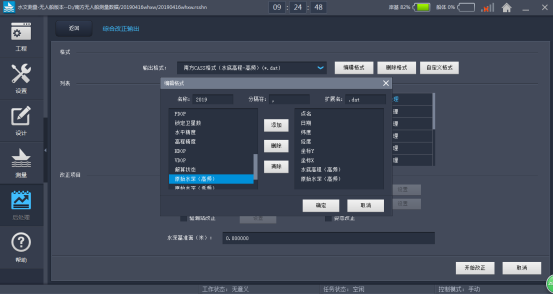 Pic 6-3 Custom data output
Section data output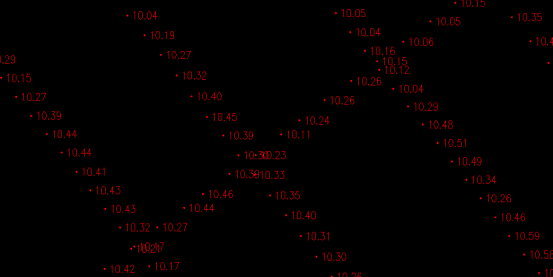 Pic 6-4 Crosspoint data comparison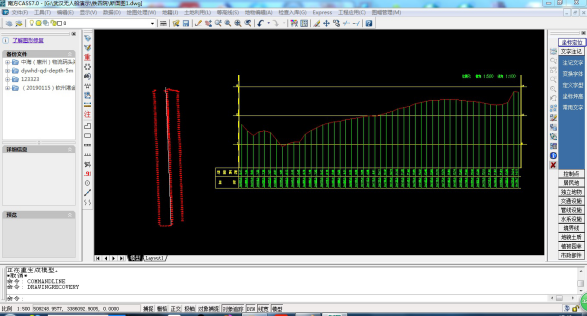 Pic 6-5 Section 1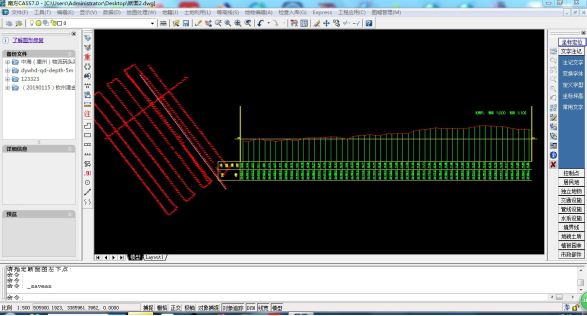 Pic 6-6 Section 2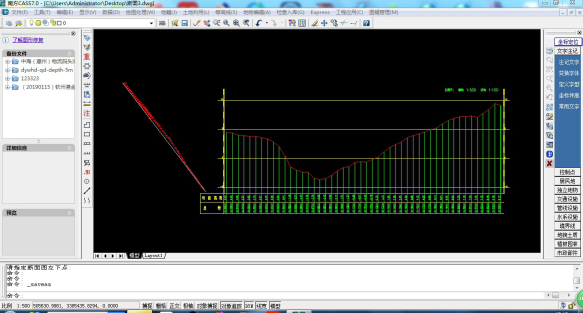 Pic 6-7 Section 3
Summary
The SL20 Autonomous Survey USV complied its mission successfully in this task. It's proved that the USV is easy to be transported, set up and operated. It can be applied to underwater topography survey and provide basic data support for river management, regulation, and silt cleaning.