Underwater Topography Survey with M40 Autonomous Survey Boat - Case Study
Location: Jiangmen, South China
Date: December 7th, 2017
Mission: A survey task of government department
Measuring area: 600m*1,000m
Duration: About 5 hours
Vessel: M40
Boat Parameters
Displacement: 450kg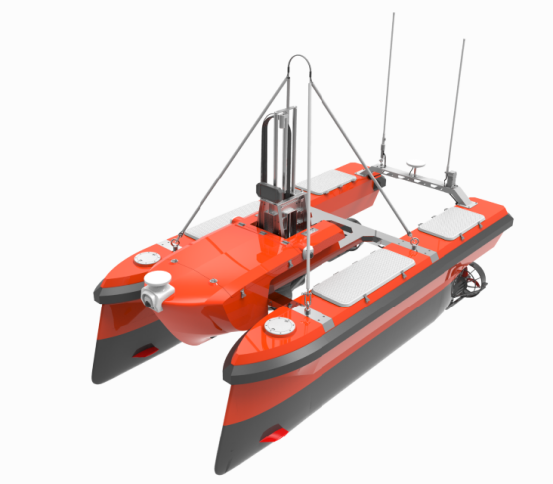 Dimensions: 3.5*1.9*1.6m
Maximum speed: 8kn
Battery life: 6 hours
Payload: 65 kg
Communication: 5km
Collision avoidance: 50m
M40 is a multi-purpose USV compatible with multibeam, single beam, side scan, ADCP, etc. With autonomous navigation function and environmental sensing technology, M40 is able to conduct hydrographic survey, water current measurement, gravity magnetic field measurement, underwater target detection and other survey tasks automatically.
Survey Area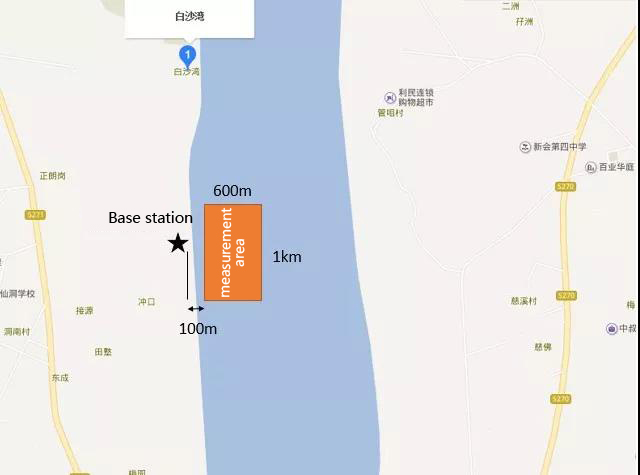 In this mission, the M40 deploys a Teledyne Reson T20P multibeam sonar and Applanix POS MV Wavemaster system for high quality survey.
The survey is in dredging construction area and with large transportation vessel which means a traffic in this area. M40 have completed hydrographic survey with 1,000*60m area and the total length of the survey line is about 26 kilometers, of which the key line is about 25 kilometers, and the contact line is about 1 kilometer.
Survey Operation
The operation of survey was at shore with base station, M40 is also able to be controlled on mothership by setting up the communication antenna and the base station on the ship, launch or retrieve with a folding arm crane.
M40 was transported by truck to dockside and launch it directly on the water. The base station and antenna are set up at shore with a distance of 100m away from the survey area.
Operator plan the navigation survey lines and configurate survey parameters (130° swath coverage of the multibeam, equal-distance mode, uniform distribution of multibeam footprints, etc.)
With around 5 hours cruising, M40 completed multibeam survey with high navigation line accuracy at water flow of 1 to 2 m/s in both upstream and downstream. Survey data can be stored onboard and have real time monitoring via long distance desktop.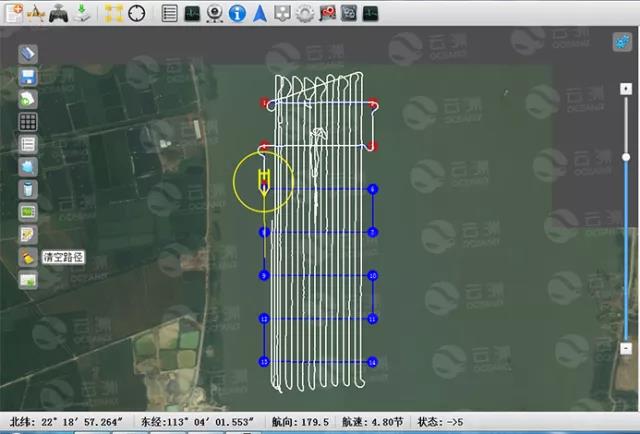 Survey lines
The Reson T20P multi beam sonar is working at 130° swath angle in the equal-distance mode and the footprints are evenly distributed. The heading of the boat is relatively stable. There's only a little lost with the edge beam and navigation noise to sonar is minimal due to the excellent engineering design of M40.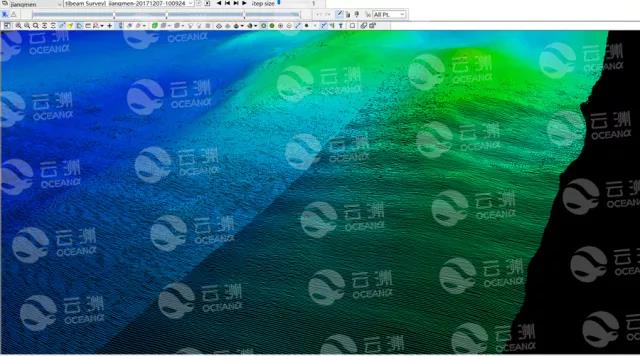 Multibeam footprint distribution (overlapping area included)

Multibeam result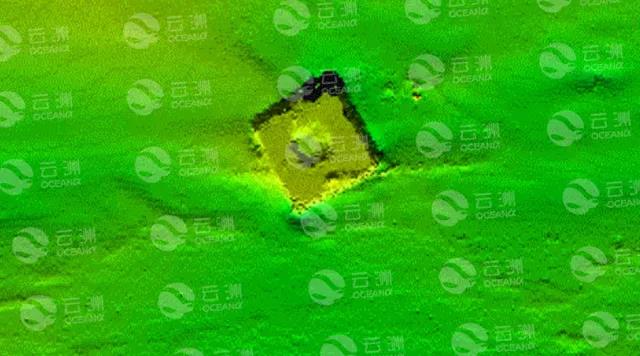 Partial enlargement (sink block)
The data shows that the maximum yaw is about 0.8m under comprehensive influences such as the impacts of upstream, downstream, ship waves, etc. When in lateral-flow, the maximum yaw is about 0.5m.
After post processing, a full-coverage bathymetric map of 600m×1000m with a resolution of 0.1 m grid was generated. The depth of water ranges between 3.5m and 13m. The central area is artificially excavated with depth ranges between 9m to 13m. The shallow water near side wall is about 3.5m. There's a steep scarp between the artificial waterway and side wall, and a small amount of anchor drag marks can be seen. A 5.5m x 5.5m of unidentified objects were found, presumed to be a sink block.
With high efficiency autonomous survey and high-quality echo sounding data which meet the IHO44 premium grade standard. M40 USV proved its advantages and value in hydrographic survey.
Conclusion
High
Maximum yaw 0.8m to survey lines in wavy water with 1-2m/s current, M40 keep stable line tracking ability to ensure high quality data to meet IHO premium standard.
Perfect for shallow water survey.
It provides the ultimate solution for near-shore shallow water survey. With draft less than 0.5m, M40 can access to shallow area compared to manned vessels, which makes full coverage hydrographic survey possible.
High efficiency.
M40 completed survey automatically in 5 hours, saving time and efforts, reducing the workload and riskiness. A group of unmanned boats can survey parallelly with mothership, which could provide great efficiency in massive water survey.
More economical.
The M40 is pure electric propulsion with less labor operation and easier transportation. Comparing to manned vessel operation cost, M40 is an economic and smart choice.
Most popular related searches