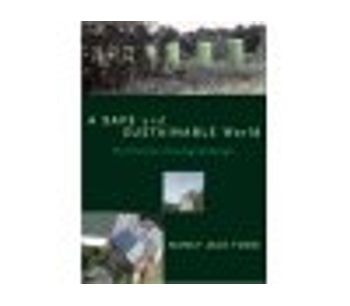 A Safe and Sustainable World:The Promise of Ecological Design
In the late sixties, as the world was waking to a need for Earth Day, a pioneering group founded a small non-profit research and education organization they called the New Alchemy Institute. Their aim was to explore the ways a safer and more sustainable world could be created. In the ensuing years, along with scientists, agriculturists, and a host of enthusiastic amateurs and friends, they set out to discover new ways that basic human needs--in the form of food, shelter, and energy--could be met. A Safe and Sustainable World is the story of that journey, as it was and as it continues to be.

The dynamics and the resilience of the living world were the Institute's model and the inspiration for their research. Central to their efforts then and now is, along with science, a spiritual quest for a more harmonious human role in our planet's future. The results of this work have now entered mainstream science through the emerging discipline of ecological design.
Authors / Editors:

Nancy Jack Todd

Price:

Retail Price $28.95 - Sale Price $14.47

Print ISSN:

1559637781

Launch:

Mar. 2005
Nancy Jack Todd not only relates a fascinating journey from lofty ideals through the hard realities encountered in learning how to actually grow food, harness the energy of the sun and wind, and design green architecture. She also introduces us to some of the heroes and mentors who played a vital role in those efforts as well, from Buckminster Fuller to Margaret Mead. The early work of the Institute culminated in the design and building of two bioshelters--large greenhouse-like independent structures called Arks, that provided the setting for much of the research to follow.
Successfully proving through the Institute`s designs and investigations that basic land sustainability is achievable, John Todd and the author founded a second non-profit research group, Ocean Arks International. Here they applied the New Alchemy`s natural systems thinking to restoring polluted waters with the invention and implementation of biologically based living technologies called Ecomachines and Pond and Lake Restorers. A Safe and Sustainable World demonstrates what has and can be done--it also looks to what must be done to integrate human ingenuity and the four billion or so years of evolutionary intelligence of the natural world into healthy, decentralized, locally dreams hard won--and hope.