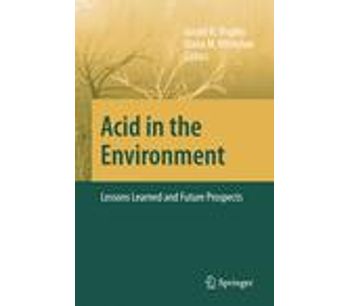 Acid in the Environment
This book is the result of a conference held biannually at the Goodwin-Niering Center for Conservation Biology and Environmental Studies at Connecticut College. It uses an interdisciplinary approach to focus on important ecological impacts of acid deposition, the transboundary nature of the pollutants that cause acid rain, and domestic and international policies designed to reduce the emission of these pollutants. The book combines research findings and the policy analyses of experts from different academic disciplines with the positions advanced by representatives of various nongovernmental organizations (NGOs). Because the volume explores many aspects of the acid rain issue, it will be of interest to a diverse audience that includes researchers, students, concerned citizens, policy analysts, and members of NGOs and government agencies who could use the text as background for discussion pertaining to the science and policy of acid deposition.
Authors / Editors:

Gerald R. Visgilio; Diana M. Whitelaw

Price:

99.00 USD; 80.20 EUR; 67.99 GBP

Print ISSN:

978-0-387-37561-8

Launch:

1900
-----------------------------------------------------------------------
Register here for the Springer e-mail newsletter providing you with information on the latest products in your field.