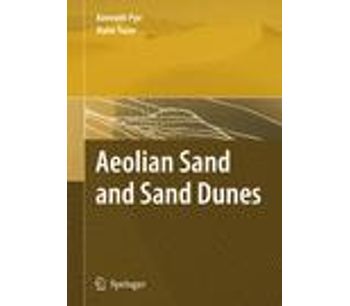 Aeolian Sand and Sand Dunes
Aeolian sand and sand dunes is an important review of the recent literature dealing with the mechanics of aeolian sand transport, sand dune dynamics, internal structure, and the post-depositional processes that modify the properties of aeolian sand. Partly as a result of increasing concern about the effects of climatic change, agricultural development in arid areas, and sea-level rise on coasts, the past two decades have seen vastly expanded research into aeolian processes, sediments and landforms. This book presents the first authoritative summary of the most important aspects of this research, emphasizing key concepts, new developments, and promising areas for future investigation. Extensive reference is made to the published literature in sediment-transport mechanics, geomorphology, sedimentary geology, and civil engineering; many examples are drawn from the authors' own research in the Middle East, Australia, Europe and North America. Topics covered include the nature of airflow in the Earth's atmosphere, the basic properties and origin of sand grains, the formation of sand seas, the dynamics and internal structures of sand dunes, weathering and diagenesis of dune sand, and problems associated with the human usage of dune areas. An extensive bibliography allows the reader to follow up points of particular concern. Written for senior undergraduates, postgraduate research students, lecturers and reasearch workers in geomorphology and sedimentology, the text includes equations when appropriate, without being overly mathematical. As an invaluable reference source for established researchers, Aeolian sand and sand dunes also serves as a highly useful introduction for newcomers to the field, and should also appeal to botanists, agricultural scientists, civil engineers, and anyone with an interest in wind-blown sand.
Authors / Editors:

Kenneth Pye; Haim Tsoar

Price:

209.00 USD; 118.50 GBP; 139.05 EUR

Print ISSN:

978-3-540-85909-3

Launch:

1900
-----------------------------------------------------------------------
Register here for the Springer e-mail newsletter providing you with information on the latest products in your field.