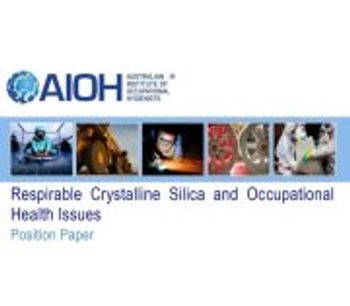 AIOH Position Paper Inorganic Lead
This paper was compiled to give guidance on the assessment, evaluation and control of occupational exposure to inorganic lead and its commonly encountered compounds, with an emphasis on recommending a health-based occupational exposure guidance value. The current Safe Work Australia (SWA) workplace exposure standards (WES) and current international occupational exposure limits (OELs) are discussed and the possible health effects examined.
Price:

$55.00

Launch:

Dec. 2018
Details
Lead (Pb) is a bluish or silvery grey metal that is obtained by the smelting of ores containing lead sulphide or sulphate or carbonate ores. Large quantities of lead are used in storage batteries, but is also used for cable covering, plumbing, ammunition, as a sound absorber and as a radiation shield around x-ray equipment and nuclear reactors. Lead is not an element generated or used by the body. Its uptake occurs as a result of ingestion or inhalation of inorganic lead particles. Not only are particulates in air (dust and fume) important sources of exposure in the workplace, but also from eating and smoking with contaminated hands due to poor personal hygiene and ingestion from contaminated food preparation surfaces and drink and food containers.