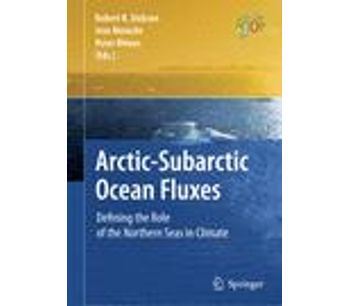 Arctic-Subarctic Ocean Fluxes
The two-way oceanic exchanges that connect the Arctic and Atlantic oceans through subarctic seas are of fundamental importance to climate. Change may certainly be imposed on the Arctic Ocean from subarctic seas, including a changing poleward ocean heat flux that is central to determining the present state and future fate of the perennial sea-ice. And the signal of Arctic change is expected to have its major climatic impact by reaching south through subarctic seas, either side of Greenland, to modulate the Atlantic thermohaline 'conveyor'. Developing the predictive skills of climate models is seen to be the most direct way of extending the ability of society to mitigate for or adapt to 'global change' and is the main justification for continuing an intense observational effort in these waters. As records have lengthened, they have shown that important aspects of oceanic exchange through subarctic seas are currently at a long-term extreme state, providing further motivation for their study. As one important example, the longest records of all show that the temperature of the main oceanic inflow to the Norwegian Sea along the Scottish shelf and slope, and the temperature of the poleward extension of that flow through the Kola Section of the Barents Sea have never been greater in >100 years. However, we are only now beginning to understand the climatic impact of the remarkable events that are currently in train in subarctic waters, and models remain undecided on some of the most basic issues that link change in our northern seas to climate. Reviewing the achievements of an intense recent observing and modelling effort, this volume intends to assemble the body of evidence that climate models will need if they are one day to make that assessment, quantifying the ocean exchanges through subarctic seas, describing their importance to climate as we currently understand it, explaining their variability, setting out our current ideas on the forcing of these fluxes and...
Authors / Editors:

Robert R. Dickson; Jens Meincke; Peter Rhines

Price:

160.45 EUR; 135.00 GBP; 219.00 USD

Print ISSN:

978-1-4020-6773-0

Launch:

1900
-----------------------------------------------------------------------
Register here for the Springer e-mail newsletter providing you with information on the latest products in your field.