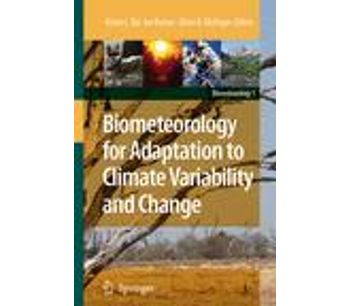 Biometeorology for Adaptation to Climate Variability and Change
Biometeorology has long been concerned with describing and understanding the impacts of weather and climate on humans and their activities and the natural (biosphere) system. Applied biometeorologists have focused on how best to prepare for and cope with weather and climate abnormalities. However, they have tended to pursue their research in relative isolation from each other. There is now a need to better understand the commonalities as well as the differences within the broad field of applied biometeorology. The driving force is that biometeorologists are faced with a common problem – how best to provide advice on how to adapt to or cope with climate change. Adaptation is a cross cutting theme. It is an issue which biometeorologists are increasingly engaging with and learning about from each other. Biometeorology, because of its focus on the sensitivity of human and biophysical systems to atmospheric variations and change clearly has something to contribute to the wider agenda of managing the impacts of climate change. The purpose of this collection of papers on biometeorology and adaptation is therefore to: (1) Communicate some of the basic ideas and concepts of the sub-fields of biometeorology as they relate to climate change. (2) Explore ideas, concepts, and practice within the field of biometeorology that may be developed in common. (3) Provide a basis for a new vision for biometeorology that will help to communicate its understanding and expertise, as well as enhance its utility.
Authors / Editors:

Kristie L. Ebi; Ian Burton; Glenn McGregor

Price:

128.35 EUR; 108.00 GBP; 189.00 USD

Print ISSN:

978-1-4020-8920-6

Launch:

1900
-----------------------------------------------------------------------
Register here for the Springer e-mail newsletter providing you with information on the latest products in your field.