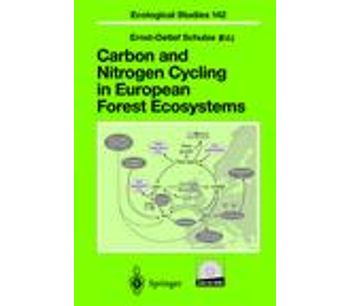 Carbon and Nitrogen Cycling in European Forest Ecosystems
The storage of carbon in forest ecosystems has received special attention in the Kyoto protocol of the Climate Convention, which attempts to equilibrate fossil fuel emissions with biological sinks. This volume quantifies carbon storage in managed forest ecosystems not only in biomass, but also in all soil compartments. It investigates the interaction between the carbon and nitrogen cycles by working along a north-south transect through Europe which starts in northern Sweden, passes through a N-deposition maximum in central Europe and ends in Italy. Surprisingly, C storage in soils increases with N deposition; in addition, not young reforestations, but old growth forests have the highest rate of carbon sequestration. For the first time biogeochemical processes are linked to biodiversity on a large geographic scale and with special focus on soil organisms. The enclosed CD-ROM provides a complete database of all flux, storage and species observations for modellers.
Authors / Editors:

Ernst-Detlef Schulze

Price:

171.15 EUR; 239.00 USD; 126.50 GBP

Print ISSN:

978-3-540-67025-4

Launch:

1900
-----------------------------------------------------------------------
Register here for the Springer e-mail newsletter providing you with information on the latest products in your field.