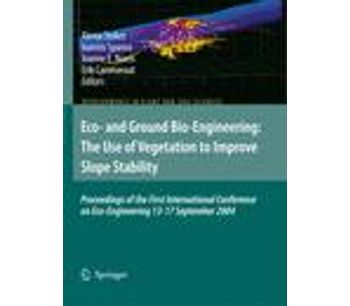 Eco- and Ground Bio-Engineering: The Use of Vegetation to Improve Slope Stability
In an era where climate change, natural catastrophes and land degradation are major issues, the conservation of soil and vegetation in mountainous or sloping regions has become an international priority. How to avoid substrate mass movement through landslides and erosion using sustainable and ecologically sound techniques is rapidly becoming a scientific domain where knowledge from many different fields is required. These proceedings bring together papers from geotechnical and civil engineers, biologists, ecologists and foresters, who discuss current problems in slope stability research, and how to address those problems using ground bio- and eco-engineering techniques. Ground bioengineering methods integrate civil engineering techniques with natural materials to obtain fast, effective and economic methods of protecting, restoring and maintaining the environment whereas eco-engineering has been defined as a long-term ecological strategy to manage a site with regard to natural or man-made hazards. Studies on slope instability, erosion, soil hydrology, mountain ecology, land use and restoration and how to mitigate these problems using vegetation are presented by both scientists and practitioners. Papers encompass many aspects of this multidisciplinary subject, including the mechanisms and modelling of root reinforcement and the development of decision support systems, areas where significant advances have been made in recent years.
Authors / Editors:

A. Stokes; Ioannis Spanos; Joanne E. Norris

Price:

265.00 USD; 208.60 EUR; 175.50 GBP

Print ISSN:

978-1-4020-5592-8

Launch:

1900
-----------------------------------------------------------------------
Register here for the Springer e-mail newsletter providing you with information on the latest products in your field.