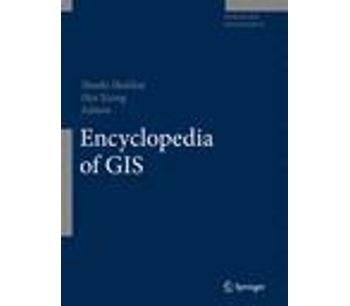 Encyclopedia of GIS
The Encyclopedia of GIS features a comprehensive and authoritative treatment of Geographic Information Science, with an A-Z format providing easy access to the field. Extensive cross-references support efficient, user-friendly searches. Authored and peer-reviewed by world experts, the entries explain the key software, data sets, and processes used by geographers and computational scientists. Over 200 topics include major overviews such as Geoinformatics, Spatial Cognition, and Location-Based Services. Short entries, cross-referenced to related larger entries, define specific terms and concepts such as the Global Positioning System, Digital Elevation/Terrain Model, and Remote Sensing. Larger entries include key citations to the literature, and (online) internal hyperlinks to definitional entries and current standards. In addition to alphabetical entries, the Encyclopedia of GIS includes a listing of current standards (e.g. OGIS) in the back-matter. Online appendices hyperlink to relevant entries. Published as a print volume with abundant black and white art, the Encyclopedia of GIS will be available simultaneously as an XML online reference with hyperlinked citations, cross-references, four-color art, links to web-based maps, and other interactive features.
Authors / Editors:

Shashi Shekhar; Hui Xiong

Price:

499.00 USD; 416.23 EUR; 350.00 GBP

Print ISSN:

978-0-387-35975-5

Launch:

1900
-----------------------------------------------------------------------
Register here for the Springer e-mail newsletter providing you with information on the latest products in your field.