Cambridge Environmental Research Consultants (CERC)
Developers of environmental software including the well known Atmospheric Dispersion Modelling System, ADMS. The world leading ADMS-Urban calculates pollution concentrations at street level resolution over urban areas and links seamlessly to regional air quality models. ADMS 5 for industrial pollution combines state-of-the-art science with an unparalleled range of model features. Other models include FLOWSTAR-Energy, EMIT and customised products. Our consulting team use these and other models for a wide variety of environmental solutions.
Company details
View in map
Find locations served, office locations and our distributors
Business Type:

Software vendor

Industry Type:

Market Focus:

Globally (various continents)

Year Founded:

1985

Employees:

11-100
This company also provides solutions for other industrial applications.
Please, visit the following links for more info: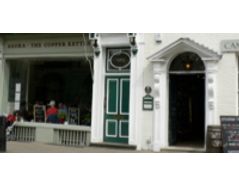 Cambridge Environmental Research Consultants uses new developments in environmental research from Cambridge University and elsewhere in practical applications. The company is an SME (small and medium enterprise) with over 20 high level scientific and technical consultants. The company offices are located opposite King's College in the centre of Cambridge.
Environmental software
CERC's environmental software is world renowned. The most well-known of our models is the Atmospheric Dispersion Modelling System (ADMS), with many hundreds licensed users worldwide. Other models include EMIT (atmospheric emissions), GASTAR for dense gas releases, LSMS for liquid spills and FLOWSTAR-Energy for flow over complex terrain with wind energy applications.
Developers of ADMS
The ADMS suite of models developed by CERC includes ADMS-Screen, ADMS 5, ADMS-Roads, ADMS-Urban and ADMS-Airport; these models cater for problems of different complexity. ADMS-Screen is used to assess the potential impact of a single point source, ADMS 5 for assessing impacts of industrial sites, ADMS-Roads for road traffic emissions and ADMS-Urban is an air quality management system for complex combinations of emissions as occur in urban areas. ADMS-Airport has been used to model impacts of emissions at many airports including London Heathrow.
Services and research
CERC provides a wide range of consultancy services using both its own and third party software. These include assessment of specific industrial, road traffic and aircraft emissions as well urban air quality for a wide range of permitting, planning and policy applications. We also conduct research projects both in-house with universities and research organisations. Other services include air quality forecasting and wind energy forecasting. Recently we have developed a system to verify air quality and GHG pollutant emissions in urban areas.
Some of CERC's clients
well-known companies, such as BP, Johnson Matthey, Savills, BAA, British Sugar, Jacobs;
UK and international government departments and agencies including UK Department for the Environment, Food and Rural Affairs (DEFRA), Department for Transport (DfT), Environment Agency, Food Standards Agency, National Highways, SEPA;
local government (a significant proportion of UK local authorities have used ADMS-Urban for air quality review and assessment);
many universities and government institutes—research applications of CERC software and collaborative research.
Projects have been undertaken in numerous countries including many in Europe, USA, India, China including Hong Kong, Malaysia, Thailand and Australia.
In summary, CERC offers advanced environmental software and associated expertise—please contact us for more details on how we can help solve your environmental problems.
CERC is a trading name of Cambridge Environmental Research Consultants Ltd, registered at Cardiff with number 1926883. Registered office address: 3 King's Parade, Cambridge, CB2 1SJ.
CERC have established partnerships in China, the Baltic states, France, Ireland, Italy and the Netherlands. ADMS models and a variety of support and consultancy services are available directly from these companies.