ENECON Corporation
ENECON Corporation has pioneered unique coating systems for industries including: the U.S. Navy, the petrochemical industry and electrical utilities. These extraordinary polymer systems are the result of years of research and development work that began with the first epoxy slip-resistant deck coatings approved by the U.S. Navy and the first products approved to the Department of Defense Specification C-24176 for hull fairing / smoothing. The senior management of ENECON have many years of combined practical experience in troubleshooting industrial fluid flow problems and commercial repair, maintenance and fluid flow problems. They have worked closely in the past with such diverse and prestigious organizations such as the Panama Canal, Army Corps of Engineers, United States Navy, nuclear and fossil fuel power stations, pulp and paper mills, petrochemical plants, mining and quarrying operations, food processing facilities, pharmaceutical companies, etc.
Company details
View in map
Find locations served, office locations, manufacturers and our distributors.
Business Type:

Manufacturer

Industry Type:

Water and Wastewater

Market Focus:

Globally (various continents)
This company also provides solutions for other industrial applications.
Please, visit the following links for more info:
ENECON is strategically positioned to provide industry, utilities and institutions with the finest repair and protection products and services available. ENECON, therefore, is the name to call when repair, maintenance and fluid flow problems are costing you time, money and aggravation.
Let ENECON® show you how our high performance polymer composites and applications know-how can save you time, money and aggravation. ENECON provides industrial repair and maintenance solutions for thousands of demanding clients in over 60 countries around the world. We can provide you with commercially proven and cost effective repair solutions for your machinery, equipment and plant structures damaged by erosion, corrosion, cavitation, wear, impact, abrasion, chemicals, hydrostatic pressure, etc.
Contact us today for a free technical seminar at your facility. We will be happy to share ideas and provide some practical insights into the latest advances in high-tech polymer repair and maintenance technology.
Erosion, Corrosion, Cavitation, Wear and Chemical Attack Problems on:
Pipes
Pumps
Impellers
Valves
Tanks
Condensers
Heat Exchangers
Tube Sheets
Water Boxes
Chillers
Shafts
FGD Systems
Scrubbers
Cooling Towers
Containment Areas
Troughs
Propellers
Kort Nozzles
Bow Thrusters
Rudders
Hull Fairing
U.S. Military Specification DOD-C-24176/QPL-24176-19
Nuclear Irradiation, Decontamination & DBA Testing (ASTM D3911-89)
Other Tests/Approvals/Commendations: NSF, CRRC (Cool Roof Rating Council), U.S. Coast Guard, U.S. Navy, U.S. Army, ABS.
*Specific details/product information available upon request.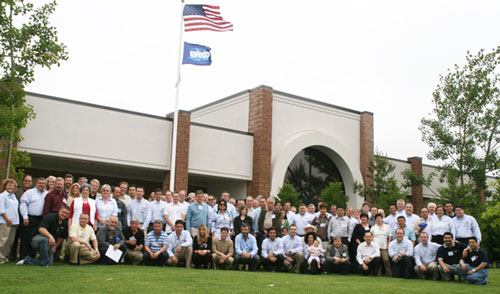 ENECON Family members at the corporate headquarters grand opening in 2009
ENECON Corporation is pleased to announce that it has achieved ISO 9001:2015 Certification following a detailed independent audit conducted by DQS Management Systems Solutions.
ISO 9001:2015 specifies requirements for a quality management system when an organization:
a) Needs to demonstrate its ability to consistently provide products and services that meet customer and applicable statutory and regulatory requirements, and
b) Aims to enhance customer satisfaction through the effective application of the system, including processes for improvement of the system and the assurance of conformity to customer and applicable statutory and regulatory requirements.
All the requirements of ISO 9001:2015 are generic and are intended to be applicable to any organization, regardless of its type or size, or the products and services it provides.