EnviroSolutions is a vertically integrated solid waste collection, disposal and recycling company. We are a customer-oriented company, and seek to develop a partnership with our clients to guarantee their satisfaction. Our quality of service is unrivaled in the industry, and we pride ourselves on our outstanding customer relations. With a targeted focus on customer service and safety, as well as a commitment to the environmental health and the communities of the areas they serve, EnviroSolutions provides complete waste service to the regions they serve including trash hauling, landfill services, and recycling services.
Company details
11220 Assett Loop, Suite 201
,
Manassas
,
Virginia
20109
USA
Business Type:

Service provider

Industry Type:

Waste and Recycling - Waste Management

Market Focus:

Nationally (across the country)

Year Founded:

2003
Our Vision of Growth
EnviroSolutions has a strategic vision of targeted growth. We aim to aggressively seek opportunities for growth, but take a disciplined approach to investment and expansion. Our focus has been on the development of an economical and effective network for waste transfer, hauling, processing and disposal, designed to sustain constant and stable returns on our investments, as well as steady growth.

Our Customers
EnviroSolutions serves a diverse portfolio of commercial, construction and recycling customers, as well as federal, state and local governmental customers. Recognized in the waste industry for our outstanding customer service, we take pride in acting as your consultant by listening to your needs and providing customized waste solutions. As your business partner, EnviroSolutions is "The Answer to Waste."

Our Safety Precautions
EnviroSolutions considers no department in our company more important than safety and compliance. Our facilities are developed, built and operated with regulatory compliance and safety as top priorities. Compliance with local, state, and federal regulation is also a priority within ESI. Our facilities and those who operate them strive to exceed these important requirements while recognizing the needs of our stakeholders.
EnviroSolutions, Inc. (ESI), your answer to waste. Our company offers a full slate of traditional waste services, such as commercial waste and recyclables collection. In addition, EnviroSolutions has pioneered industry leading programs to manage construction and industrial waste, property managed organizations and high profile governmental institutions. With decades of experience, ESI's dedicated team of professionals ensure that your waste needs are met in a reliable and cost efficient manner. Our focus on personalized customer service and attention to detail make us a leader in the waste industry.

EnviroSolutions' waste programs are designed for all businesses, from small private contractors to national retail firms and property management companies. Our commitment to the customer is consistent and unwavering no matter their size.

At EnviroSolutions, we are equally committed to protecting the environment. Our comprehensive LEED Green Building compliant programs lead the industry while the ground breaking bale & rail system offers unmatched benefits to the environment to keep our planet clean and green.

If you need a roll-off container, dumpster, compactor, or have a special waste project, contact EnviroSolutions today. Our Customer Care Representatives are there to provide a waste solution to meet your needs.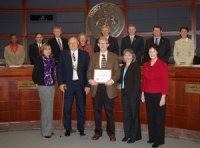 Our Values and the Community
We are partners with the communities that host our facilities. In this role, we are sensitive to the needs of the community well beyond the services that we provide. We pride ourselves on giving back to our communities as good corporate citizens.

When our neighbors need us most we are there, providing complimentary hauling services during the back-to-back hurricanes of 2011 and the Derecho of 2012. We are a consistent contributor of hauling services to Habitats of Humanity. Our Lorton Landfill is a top supporter of the Lorton Arts Foundation and annually contributes $60,000 to the county's recycling program. The contribution underwrites recycling education and outreach programs. EnviroSolutions supports Home For Our Troops, providing specially adapted homes for severely injured veterans. We also believe in supporting our community for great causes such as Junior League program, Prince William County Elementary Schools swim clubs, and VA Hokies Elementary Division II National Championship. In addition to these programs, our facilities provide direct financial benefits to local communities through host fees and complimentary disposal programs.

Our Mission
EnviroSolutions believes in superior customer service. The waste management industry is a competitive one, and from the consumer perspective, it is important to deliver top-notch service. EnviroSolutions is not just out to compete. Our goal is to be the leader in the waste management industry, and that means making customer service that is superior in every way a core element of the ESI philosophy.