In-Situ Oxidative Technologies, Inc (ISOTEC) - Soil & Groundwater Remediation
ISOTEC is the most respected full-service environmental remediation firm providing design/build remediation services including chemical oxidation and reduction via injection, soil mixing, and ex-situ treatment. ISOTEC is now part of the G.E.O. Inc. team implementing Gas Thermal Remediation (GTR©) for remediation via in-situ thermal desorption (ISTD). GTR© units heat by natural gas or propane allowing the greatest flexibility in thermal conductive heating (TCH) while being reasonably priced compared with current thermal remediation alternatives. ISOTEC now offers contaminant stabilization through in situ delivery of binding agents via the Lang Tool soil mixing equipment. ISOTEC`s reagents include persulfate, permanganate, our patented Modified Fenton's Reagent, chelated iron, calcium polysulfide, calcium/sodium polysulfide, lactate and EnviroBlend®. Twenty years in the industry gives us a unique perspective for evaluating complex sites and determining appropriate remedial solution.
Company details
View in map
Find locations served, office locations and our distributors
Business Type:

Manufacturer

Industry Type:

Market Focus:

Internationally (various countries)

Year Founded:

1995

Employees:

11-100

Turnover:

$1,000,000 US - $10,000,000 US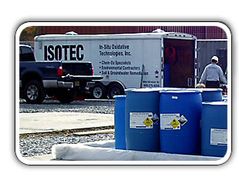 Since 1995, ISOTEC has revolutionized soil and groundwater remediation through its proprietary in-situ technologies. Our unique processes destroy contaminants in soil and groundwater in a timely and cost-effective manner and with minimal site disruption.
ISOTEC is the exclusive patent holder on the use of chelated iron catalysts to promote modified Fenton's processes under circum-neutral pH conditions — conditions which occur in most natural aquifers. ISOTEC's modified Fenton's reagent is one of the safest Fenton's processes available in today's remediation marketplace. Our scope of services also include permanganate (sodium or potassium) and activated persulfate catalyzed by our patented chelated iron catalysts, heat or hydrogen peroxide.
Our typical project approach starts in the laboratory where we develop a strategy to ensure that the ISOTEC Process is optimized for your specific site conditions. A laboratory treatability study is conducted to test several types and concentrations of our patented catalysts and oxidizers on saturated soil and groundwater samples obtained from a site. Following the treatability study, a field pilot program is designed to evaluate not only the efficiency of our reagents, but also the data generated during the pilot program is used to design the most effective full-scale remediation program for your site. At some sites, appropriate geology and contaminant types allow ISOTEC to mobilize directly to the field and begin full-scale remediation.
A few example contaminants that are amenable to the ISOTEC treatment approach are provided below.
1,4-Dioxane (pdf format)
Petroleum Related Compounds (e.g. BTEX, MTBE, Naphthalene).
Chlorinated Alkenes (e.g. PCE, TCE, DCE, VC).
Chlorinated Alkanes (e.g. 1,1,1-TCA, Carbon Tetrachloride).
Manufactured Gas Plant - MGP Related Compounds (e.g. PAHs).
Pesticides (e.g. Lindane, Chlordane).
Pharmaceutical Related Compounds (e.g. Sulfonamides, Barbiturates)
Other contaminants (e.g. Pentachlorophenol).
ISOTEC also specializes in combined or sequential application of Fenton's, persulfate, or permanganate to achieve optimal treatment results. Whether it is soil or groundwater remediation, bedrock or vadose zone treatment, ISOTEC has a solution for your remedial needs.
OUR EXPERIENCE
Zero accidents safety record in over 15 years of in-situ chemical oxidation (ISCO) field application.
More than 1,000 field-scale (pilot and full-scale) ISCO applications completed to date.
More than 500 bench-scale studies completed to date.
Exclusive patent holder on the use of chelated iron catalysts for both Modified Fenton's Reagent as well as Activated Persulfate.