At Innovnano, we manufacture high quality, ultra-fine nanostructured ceramic powders. Established in 2009, we originate from, and are part of, CUF - the largest chemical company in Portugal. Certified by Lloyd's Register Quality Assurance (LRQA) to ISO 9001 standards, we are committed to meeting market demands for top quality products and production processes. And with a new, purpose-built manufacturing technology facility in Coimbra, Portugal, we have a strong technological platform to enable materials production and processing on a large scale. Our unique Emulsion Detonation Synthesis technology is perfectly suited to the industrial-scale production of complex technical ceramic powders and the site capacity of up to 1000 tpa ensures a reliable source of high quality nanostructured ceramic powders for advanced materials applications.
Company details
iParque, Lote 13 Apartado 7030
,
Antanhol
,
3040-570
Portugal
Business Type:

Manufacturer

Industry Type:

Manufacturing, Other

Market Focus:

Internationally (various countries)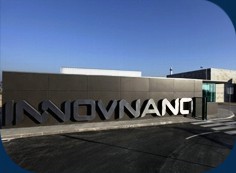 Furthermore our EDS process uses feedstock precursors from sustainable sources, ensuring a reliable and economical continuity of supply, and supporting the growth of the nanotechnology industry.

Our Ethos
Innovnano mirrors the corporate ethos of our parent company - Innovation, Competence and Personal Development - qualities we deem central to the success of our business. We reflect this philosophy in our attitude towards our partners, our personnel and, most importantly, our clients.

Our Vision
Enabling NANO to think BIG. We know that nanostructured zirconia powders are the future of high performance, highly advanced ceramic applications. With our technology and dedicated in-house expertise we want to maximise their potential, to explore and develop properties for a wider range of cutting-edge, innovative applications.

Our Promise
To deliver high quality nanostructured ceramic powders in association with a dependable, friendly and customer-orientated service.
We have invested in a high-tech, purpose-built facility for production of our nanostructured powders. Our European production centre is based in a dedicated technology park in Coimbra (Portugal), and has been built with a modular design, to facilitate future expansion and meet the rapidly growing demand for high performance materials.

At the new facility, we have the capacity and expertise to rapidly up-scale nanostructured powder production, from small quantities needed in R&D phases, to much larger industrial quantities, up to 1000 tonnes per annum, to support the entire project life-cycle of our customers.

Our Emulsion Detonation Synthesis (EDS) technology has been fully automated in the production suite, and along with stringent quality control processes, ensures we can produce nanostructured powders with extremely high batch-to-batch consistency.
R&D is integral to the development of our products and we have an expert team driving this innovative work in-house. Our modern facility is well-equipped to be advancing research in the area, and we have invested in state-of-the-art measurement and characterisation equipment and extensive training of technical personnel, so that we can provide our customers with powders optimised for purpose.

As part of this work we have a few products in the pipeline…


Aluminium-doped Zinc Oxide (AZO) Sputtering Targets
Available as 2" and 3" discs, our raw AZO powder has very small grain sizes and high reactivity enabling the production of full density targets at lower sintering temperatures to minimise grain growth. By retaining small grain sizes, our AZO sputtering targets offer improved thermal and mechanical properties for high performance TCO film deposition. Your thin film benefits from:
Improved deposition stability
High homogeneity
Excellent electrical conductivity
Transparency
8 mol% Yttria-stabilised Zirconia (8YSZ)
We are working towards a high strength, high stability ceramic powder with superior ionic conductivity for SOFC, catalyst and sensor applications. Development batches of our 8YSZ are showing ideal nanostructured properties following EDS synthesis, so get in touch for our product updates.
Our Partners
At Innovnano, we are proud to work with a number of academic, R&D and commercial organisations globally. Such groups enable us to identify and respond to needs of the industry, challenge the limitation of existing products and develop innovative powders that are optimised for cutting-edge applications.