SyringePumpPro is run by me, Tim Burgess. A fantastic thing about dealing with a one person company is that when you interact with SyringePumpPro, you are talking to the CEO/Software Guy. If you need technical support or a question answered, you'll get a response straight from the one person who should know, can get you an answer, or can fix the problem for you! SyringePumpPro software takes control of your pumps, automating your fluid flows, guaranteeing repeatability. You save a heap of time in your pump operations. Automatic remote pump operations can be safer. Reduce wastage of expensive components and operator time. Creating machine control software for a world leading manufacturer of transformer core making machines. Providing support for that software world wide.
Company details
PPO Box 506
,
Gawler
,
South Australia
5118Z
Australia
Business Type:

Software vendor

Industry Type:

Monitoring and Testing

Market Focus:

Globally (various continents)

Year Founded:

2006

Employees:

1-10

Turnover:

$1,000,000 US - $10,000,000 US
What is SyringePumpPro 's Long Term Aim?
SyringePumpPro talks to a range of laboratory pumps from a number of pump manufacturers.
Once you have a programmable pump there are all sorts of things a piece of pump control software can do. The most obvious thing is to let you operate it faster and friendlier – you don't have to learn which buttons to push in what order, or what the abbreviated display (ok – sometimes cryptic) is trying to tell you,
Next comes the data that the software can harvest from the pump, times, rates, volumes. All of which allows you to take that data and process it.
Then comes higher level features, recipes for multiple pumps, graphing, timing delays, and much more. SyringePumpPro has come a long way so far. Information from one pump or a number of pumps can be used to affect the control of one or many pumps too. I can see there remains a lot more for me to do so that my software will help you extract maximum value and utility from this powerful combination of software and pumps.
The idea behind SyringePumpPro is to make using lab pumps easier, repeatable, and less error prone. I also want to make the common pump operations intuitive and quick. There's quite a steep learning curve for new pump operators. Beyond that what new functions and features can pump supervising software offer?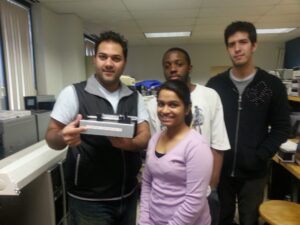 SyringePumpPro gives you a friendly computer interface for using your laboratory pumps. For OEM pumps, SyringePumpPro is an essential tool to facilitate programming and control of these pumps. For pumps with a display and buttons, SyringePumpPro is a massive time saver. SyringePumpPro goes beyond what the pump's offer, by using the data collected from the pumps in new and interesting ways.