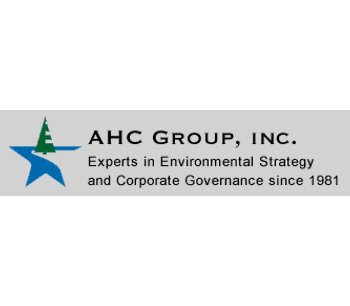 Corporate Strategy Today
"Corporate Strategy Today (CST) is a biennial briefing on business strategy that provides applied intelligence -- by business leaders for business leaders", Dan Sayre, VP and Publisher at John Wiley and Sons and former Vice President and Publisher of Island Press. Corporate Strategy is where trends and emerging concepts in corporate governance, energy strategy, product development and sustainability meet business reality. CST articles are written by leading executives at global firms. They write about real results achieved in real time.
MISSION & HISTORY
Issue 12 — LEADING CORPORATE STRATEGIES AND CLIMATE CHANGE:
A Few Key Business Examples
Since 1981, the AHC Group has been active in assisting companies and individuals in the field of environmental strategy and management consulting. In this latest issue of our flagship business publication, we tackle the increasingly important topic of climate change.
BUY IT NOW >>
We are all painfully aware that energy prices are soaring, as oil prices reach all-time highs almost weekly. With economies around the world expanding and consuming a greater share of resources, there is little relief in sight for traditional energy supplies. This also signals an increase in the emissions of greenhouse gases, which are known to cause climate change.
According to the U.S. Energy Information Administration, GHG rose by 2% in 2004 in the United States , an increase of 104.5 million metric tons of carbon dioxide (bringing its total to 5,912.21 million metric tons). China, currently the second largest emitter of CO 2 and the fastest growing producer, saw GHG rise 20.76% in 2004, bringing its total to 4,707.28 million metric tons. For the sake of comparison, the third largest producer of GHG, Russia, emitted 1,684.84 million metric tons in 2004, the U.K. produced 579.68, and so on down the line to third-world countries like Rwanda emitting 0.79 million metric tons of CO 2 in 2004.
What do these trends speak to you? In other words:
How do I think about this in the context of what failure to think about this will do to my company?
This edition of CST includes fascinating case studies about how companies are analyzing and addressing the threats and opportunities of a carbon-constrained world. Some companies are being coaxed into action, some are required to take action, and some have the right environment where taking action has created additional profitable business opportunities, enhanced the long-term health of the company, and is viewed as the right thing to do. This latest issue of CST compiles the years of experience and insights, from some of the most plugged-in leaders of our day, on how actually to do it and what you need to be aware of.
Steve Percy, former CEO of BP America and AHC Group Senior Associate and Board Member, has over the past several years worked on the United Nations Millennium Ecosystem Assessment. Steve`s a rti cle, `The Millennium Ecosystem Assessment and Corporate Strategy,` brilliantly points out that ecosystem degradation presents threats to businesses through high costs, supply disruption, government restraint, and stakeholder demands. Simultaneously, these challenges present opportunities to businesses through new technologies and business models.
Truman Semans of the Pew Center on Climate Change details the inevitability of a stronger U.S. climate change policy, the increasing business leadership on climate issues, the factors that influence corporate climate strategies, and the effective business strategies that address climate change.
Dr. Joan Wales, Vice President of Strategy and Planning at BP, describes the evolution and complexity of the company`s climate change strategies, including BP`s own environmental footprint, a reinvention of its energy products to go beyond petroleum, and a recognition that their climate change strategies are both a business opportunity and a responsibility.
Skiles Boyd, Vice President of EHS at DTE Energy, describes how inquisitive shareholders can represent divine intervention by increasing corporate transparency and uncovering business opportunities.
Frank Loy former Under Secretary of State and the chief U.S.
Susbscription Details
Corporate Strategy today is a biennial briefing on business strategy and corporate governance. It provides applied intelligence by business leaders for business leaders. Subscriptions are available for $200 per year, or $350 for two years.
Two year subscription CST - $350
Back issues can also be purchased for $100 each. Individual articles from past issues can be purchased for $25 each. To View Back Issues Click Here.
World Inc.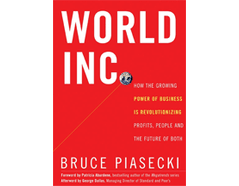 World Inc.: How the Growing Power of Business is Revolutionizing Profits, People and the Future of Both
In World Inc, Bruce Piasecki fuses the domains of product knowledge and social vision by putting forth the revolutionary business truth that will increasingly govern free enterprise in the coming decades: a well-made product embodies key social values.
— Patricia Aburdene
Author, Megatrends 2010