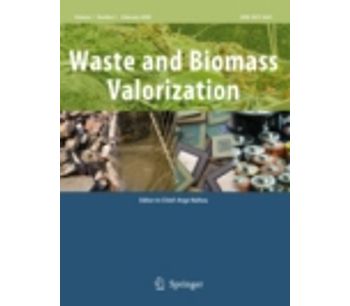 Forthcoming in 2010, the primary goal of this new journal is to gather and disseminate the research and experiences on the transformation of waste and biomass to energy, fuels, and other useful materials (valorization), with particular focus on environmental quality and sustainability goals.
About This Journal
Until the 1990s, technology was the main driver when dealing with waste and residues, the objective being the treatment of waste for (landfill) disposal, storage, and in some cases sorting. In the 1990s, depletion of raw materials and socio-economical concerns supported the direct recycling of waste and residues. However, the direct recycling approach is limited when waste/residues contain significant amounts of pollutants such as heavy metals and organics (VOC, PAH), and when the treatment process to remove/stabilize or destruct the pollutant generates emissions. Due to depletion of natural resources, increasing greenhouse emissions, and awareness of the need for sustainable development in terms of safely reusing waste and biomass, the transformation of waste/biomass to valuable materials and energy (i.e. valorization) is emerging as a strong trend.
Editorial Board
Editor-in-Chief:
Ange Nzihou
Research Centre of Albi on Particulate Solids, Energy and Environment (RAPSODEE)
Ecole des Mines d`Albi-Carmaux
Albi, France
Associate Editors:
Peter R. Jaffé
Department of Civil and Environmental Engineering, Princeton University, Princeton, NJ, USA
Gerasimos Lyberatos
Laboratory for Biochemical Engineering and Environmental Technology, Department of Chemical Engineering, University of Patras, Greece
Fumio Saito
Institute of Multidisciplinary Research for Advanced Materials, Division of Materials Design, Tohoku University, Sendai, Japan
Patrick Sharrock
Laboratoire d'études et de recherches en imagerie spatiale et médicale (LERISM), Université Paul Sabatier de Toulouse, France
Nikolas J. Themelis
The Earth Engineering Center (EEC), Columbia University, New York, NY, USA
Jannie S.J. van Deventer
Department of Chemical & Biomolecular Engineering, The University of Melbourne, VIC, Australia
Scientific Advisory Board:
S. Alexandratos, New York, NY, USA; G. Angelopoulos, Patras, Greece; A. Azapagic, Manchester, UK; C. Bastioli, Novara, Italy; J.-P. Birat, Maizières-lès-Metz, France; M. Castaldi, New York, NY, USA; R.M. Cotta, Rio de Janeiro, Brazil; J. Duchesne, Québec, Canada; P. Eisner, Freising, Germany; E. Ekinci, Istanbul, Turkey; M. Escudey, Santiago, Chile; T.H. Etsell, Edmonton, AB, Canada; G. Flamant, Font-Romeu Odeillo, France; H.J. Górecki, Warsaw, Poland; H. Inyang, Charlotte, NC, USA; L. Krzystek, Lodz, Poland; D. Lecomte, Albi, France; J. Mata-Álvarez, Barcelona, Spain; Y. Matsumura, Higashi-Hiroshima, Japan; J.N. Meegoda, Newark, NJ, USA; G. Moriconi, Ancona, Italy; Z.V. Panchakshari Murthy, Surat, India; R. Pant, Ispra, Italy; P. Piantone, Orléans, France; F. Puertas, Madrid, Spain; X. Querol Carceller, Barcelona, Spain; K.R. Reddy, Chicago, IL, USA; M.A. Reuter, Melbourne, VIC, Australia; E. Roca Bordello, Santiago de Compostela, Spain; L.L. Tavlarides, Syracuse, NY, USA; S. Thomas, Kottayama, Kerala, India; S.V. Vassilev, Sofia, Bulgaria; P. Vasudevan, Durham, NH, USA; W. Verstraete, Gent, Belgium; H. Wang, Rotorua, New Zealand; D. Weng, Beijing, P.R. China; P.T. Williams, Leeds, UK; Y. Zhao, Dublin, Ireland.