Actio Compliance Solution Awarded Top Honors in Environmental Leader Technology Review
Portsmouth, New Hampshire (PRWEB) March 07, 2013 --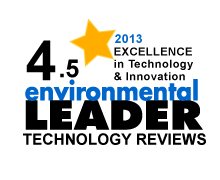 Actio Corporation, makers of software for product regulatory assessment and compliance, have announced that their Material Disclosure software received one of the highest scores possible in the 2013 Environmental Leader Technology Reviews Program. Actio provides companies around the world with an automated supply chain materials management platform which creates a single source of accurate substance data, as well as provides a collaborative infrastructure for suppliers, internal stakeholders and customers to quickly adapt and react to current global market conditions.
Actio customers have superior agility in an increasingly complex globally-regulated supply chain to:
immediately recognize and respond to global regulatory issues
design eco-friendly products
optimize lean manufacturing
execute green, sustainable business practices
monitor toxic chemicals in products and supply networks
Material Disclosure earned an impressive 4.5 Stars (out of a possible five) in the Environmental Leader Technology Reviews Program. Judges said the compliance solution is an 'exemplary product in sustainability initiatives.'
Scores were determined by a panel of independent judges from companies including PepsiCo, Staples, the University of California Berkeley, ISS Facilities Services, The Green Grid, LNS Research, Owens Corning, Yahoo! Inc., GlaxoSmithKline, Legrand, Petco, and New Belgium Brewing Company. The Environmental Leader Technology Reviews program aims to give companies a solid base of products, vetted by experts, from which to choose. For a complete list of winners, visit http://www.environmentalleader.com/el-technology-reviews/.
What the judges said about Actio's Material Disclosure:
Actio's breakthrough software is lauded for its flexibility – business professionals can use it to quickly react to an ever changing marketplace with fluctuating international regulatory demands. It's a single tool for solving the multi-dimensional challenges that today's manufacturing professionals face daily.
One judge said, "Product compliance is becoming increasingly complex with multiple legislative requirements across the globe. A single platform will be enormously helpful and cost effective to companies who operate in many markets."
Another judge said, "Chemical disclosure represents an increasing risk to human and environmental health, and chemical disclosure today is difficult throughout supply chains. This material tracking software as a service approach makes a great deal of sense for both suppliers and customers. The protection of proprietary formulations by highlighting risks and hazards make this a game-changing vehicle for creating supply chain transparency."
'Material Disclosure is a product whose time has come,' said Russell McCann, Actio President and CEO. 'Businesses seeking to quickly react to varying business challenges – from sustainability to regulatory shifts – can rely on one integrated tool. It's very meaningful to receive a top score in this competition."
"The caliber of the entries was impressive, and truly showed the innovation taking place in the industry today," says Paul Nastu, publisher of Environmental Leader. "The judges had their work cut out for them. It was a tough playing field for those that entered, and the products that scored 3.5 Stars or higher are those that the judges say have viable attributes that set them apart from others in the field."
About Environmental Leader:
Since 2006, Environmental Leader's website and daily email newsletter have provided the definitive and objective voice in reporting on business-related energy, environmental, and sustainability issues, while Energy Manager Today is the leading daily trade publication keeping corporate executives informed about energy management news. For more information visit http://www.environmentalleader.com or http://www.energymanagertoday.com.
About Actio:
Actio provides manufacturers and their suppliers with on-demand, centralized supply chain materials management, down to the substance level. Actio's secure, automated software-as-a-service (SaaS) solution creates a single repository of accurate, up-to-date substance data, as well as provides a collaborative infrastructure for suppliers, internal stakeholders and customers. This means companies can quickly adapt to ever-changing global market conditions and compliance mandates. Actio's product line includes solutions such as 'Material Disclosure' supplier material management software and solutions for compliance with SEC conflict mineral rules, REACH, RoHS, GHS and more. Actio is SAS 70 and Safe Harbor certified. Actio has been given honors by Gartner, Inc. Magazine and IDG ComputerWorld. To see a demonstration of Actio technology, please visit http://www.actio.net. Since 1996.
Read the full story at http://www.prweb.com/releases/sustainability/software/prweb10505529.htm