Building America Update – August 8, 2014
Top Innovation Spotlight: Quality Management System Guidelines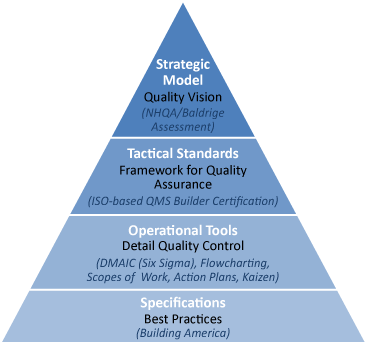 The whole-building approach of constructing high performance homes requires a high degree of coordination and interdependencies between designers, builders, and trade partners to achieve energy efficiency goals, meet customer expectations, minimize risks for the builder, and avoid costly mistakes. Quality management tools tailored for the high performance homebuilding industry provide the necessary framework to support builders as they shift from conventional to high performance homes.
Building America research teams IBACOS, Building Science Corporation (BSC), and the Partnership for Home Innovation (PHI) created custom quality management system guidelines for the design and construction of high performance homes, earning a 2013 Top Innovation award for their efforts. The IBACOS report, Strategy Guideline: Partnering for High Performance Homes, stresses the value of partnering as a powerful tool to integrate thinking, design, and feedback on systems and solutions. BSC's guideline, Advanced Construction Documentation for High Performance Homes, pinpoints differences between the requirements for construction documents for high performance housing and those typically produced for conventional homes.
PHI's set of practical quality management resources focus on smoothing the transition to high performance homes, minimizing builder risks, and delivering a consistent message about the value of high performance homes. A key guide is Quality Assurance Strategy for Existing Homes: Final Quality Management Primer for High-Performing Homes, which outlines steps to implementing a comprehensive quality management system.
Learn about all the Building America Top Innovations.
Register for Building America Webinar—August 13: High Performance Enclosure Strategies: Part II
Building America brings you free monthly webinars highlighting the latest advances in residential building technologies and practices, presented by Building America research team experts. Please join us for the August webinar:
High Performance Enclosure Strategies: Part II – New Construction
Date/Time: August 13, 2014; 3:00 PM EDT
Description: The webinar is the second in our series on designing and constructing high performance building enclosures, and will focus on effective strategies to address moisture and thermal needs.
Presenters include:
Peter Baker,

Building Science Corporation

, will discuss results of 3 years of laboratory and field exposure testing that examined the development of the system deflection resistance capacity and long-term movement of assemblies in exposed outdoor environments.

Vladimir Kochkin,

Partnership for Home Innovation

, will focus on three new opportunities for advanced framing practices, including continuous drywall at interior partitions, rim header, and high heel truss attachment.

Lois Arena,

Consortium for Advanced Residential Buildings

, will discuss the challenge of moisture problems within the building shell that can be caused by excess interior moisture, bulk water intrusion, capillary action from concrete to wood connections, and through wetted building materials such as siding from rain splash back.
Reserve your seat now! Keep current on upcoming Building America webinars by visiting the Meetings Web page.
Building America Code Compliance Briefs Support Market Adoption of Innovations
In an effort to address barriers to building innovations from codes and standards, Building America is releasing Code Compliance Briefs to facilitate the conversation between builders, installers, and code officials when an innovative product or technique is used in the field. This process will help to expedite code compliance for innovations at the time of plan review and field inspection, avoiding compliance issues and costly delays.
As explained in the Building America report, Guidance for Identifying and Overcoming Code, Standard, and Rating Method Barriers, the need for these resources was identified as part of the new Building America Code and Standard Innovations initiative. Briefs will include notes for code officials on how to plan review, field inspect, and provide technical validation to help the builder or remodeler with the proposed designs and provide the jurisdiction with information for acceptance.
The briefs will be posted on the Building America Solution Center website. So far, Code Compliance Briefs have been developed for double wall framing and bathroom fans. Learn more and provide feedback.
Zero Energy Ready Home Technical Webinars and Trainings
DOE offers two Zero Energy Ready Home technical training webinars in August:
ZERH Orientation—Better Business for Builders
Date/Time: August 14, 2014; 12:00-1:00 PM EDT
Description: The Zero Energy Ready Home Program represents a whole new level of home performance, with rigorous requirements that ensure outstanding levels of energy savings, comfort, health, and durability. This webinar will provide an overview of the Zero Energy Ready Home program, including the business case and how to be recognized as an industry leader. Register now.
Ventilation and Filtration Strategies With Indoor airPLUS and Zero Energy Ready Homes
Date/Time: August 21, 2014; 1:00-2:00 PM EDT
Description: The Indoor airPLUS qualification, a prerequisite for zero energy ready homes, offers an important platform to improve the indoor air quality (IAQ) in high performance homes. A critical aspect of improving both energy efficiency and IAQ is the proper design and installation of HVAC systems and their filtration components. Join this webinar to learn how Indoor airPLUS adds valuable features to zero energy ready homes that take into account source control, ventilation, and enhanced filtration, and provide additional health protections for the home's occupants. Register now.
New DOE Energy Conservation Standards for Residential Furnace Fans
On June 25, 2014, DOE adopted new efficiency standards intended to dramatically reduce the energy use of furnace fans, which circulate heated and cooled air within a home. The new standards are expected to save approximately 3.99 quads of energy, reduce harmful carbon pollution by up to 34 million metric tons—equivalent to the annual electricity use of 4.7 million homes—and save Americans more than $9 billion in home electricity bills through 2030. Learn more.
For years, Building America research has contributed to the advancement of furnace efficiency. In 2013, researchers at Lawrence Berkeley National Laboratory won a Top Innovation award for their work on evaluating the performance of home furnace blowers. This research led to the creation of a standard for rating blowers and credits for the use of good blowers in federal tax credit programs and energy codes, and supported the recent federal rulemaking procedures.
Residential Successes: Community-Scale, Affordable High Performance Homes
This month's Residential Successes highlight two examples of Building America efforts to make high performance, cost-effective homes available on a community scale.
Affordable Cold Climate Infill Housing with Hybrid Insulation Approach

: In 2010, the City of Wyandotte, Michigan, began constructing affordable, energy-efficient homes on lots in existing neighborhoods, engaging local builders to deliver the new houses for less than $100/ft2.

National Grid Deep Energy Retrofit

: National Grid conducted a pilot program of 42 deep energy retrofit of homes in Massachusetts and Rhode Island, setting aggressive performance targets for the homes' building enclosures, HVAC systems, and combustion safety—achieving an average yearly source energy use that is 40% below the Northeast regional average.
Find case studies in your area on the Climate-Specific Guidance pages of the Building America website.
Other DOE Research of Interest: $14 Million Awarded for R&D of Building Efficiency Technologies
DOE's Building Technologies Office recently awarded $14 million in funding for 15 research and development projects to support technologies that will advance early-stage, breakthrough energy-efficient solutions for residential and commercial buildings. Seven incubator projects were selected that will focus on improving HVAC, water heating, sensors and controls, and building energy modeling. Additionally, eight frontier projects will address energy efficiency in advanced clothes dryers, windows, and building thermal insulation. Frontier projects seek to improve the efficiency of existing technologies by incorporating new, innovative materials or components. Read about the awards.
DOE's Office of Energy Efficiency and Renewable Energy (EERE) works with industry, universities, and other organizations to increase the use of renewable energy and energy efficiency technologies. One way EERE encourages the growth of these technologies is by offering financial assistance opportunities for their development and demonstration. Learn more about the process and current opportunities.
Mark Your Calendars for These September Events
Don't miss these exciting events scheduled for September 2014:
Webinar: September 9, 2014. Low-E Storms: The Next Big Thing in Window Retrofits
Until recently, energy-efficient window retrofit options have largely been limited to repair or replacement; leaving the homeowner to decide between affordability and deeper energy savings. A new and improved low-e storm window boasts a combination of curb appeal and energy efficiency, all for a fraction of the cost of window replacement. A recent whole-home experiment performed by Pacific Northwest National Laboratory suggests that low-e storm windows can result in as much energy savings replacing the windows!

Learn more and register

.

Housing Innovation Awards: September 23, 2014
The DOE

Housing Innovation Awards

recognize the very best in innovation on the path to zero energy ready homes from a number of DOE residential building programs:

DOE Zero Energy Ready Home,

Home Performance with ENERGY STAR®

, and Building America

Top Innovations

. Winners of the Home Builder Awards (Custom Builder, Production Builder, and Affordable Home Builder) will be announced at a ceremony on September 23, 2014, at the

Energy & Environmental Building Alliance's Excellence in Building Conference

in St. Louis, Missouri.

Webinar: September 24, 2014. Multifamily Ventilation Strategies and Compartmentalization Requirements
The webinar will focus on key challenges in multifamily ventilation and strategies to meet these challenges, including make-up air and the difficulties of meeting ASHRAE Standard 62.2-2013 ventilation requirements in multifamily buildings that are also constructed to LEED compartmentalization requirements. Registration details coming soon.
Here are recent Building America-related articles in popular trade publications:
Subscribers to Energy Design Update can access these recent articles:
August 2014: Turning Energy Efficiency into a Meaningful Tool for Appraisers (Part I)

June 2014: Good Intentions, Unintended Consequences
New Publications From Building America
The Building America Publications Library offers an extensive collection of technical reports, measure guidelines, case studies, and other resources to help you boost energy efficiency in new and existing homes. On the library page, you can subscribe to the RSS feed that delivers reports as they are published. Also, the Building America Solution Center links you to expert building science and energy efficiency information based on Building America research results. Here are samples of our most recent publications:
Performance Verification of Production-Scalable Energy-Efficient Solutions: Winchester/Camberley Homes
This report presents a new set of high performance home designs that could be applicable on a production scale that will be constructed in the mixed-humid climate zone 4. The combination of new wall framing designs and materials, higher levels of insulation in the wall cavity, and more detailed air sealing to achieve lower infiltration rates changes the moisture characteristics of the wall system. This report demonstrates through measured data that the wall system functions as a dynamic system, responding to changing interior and outdoor environmental conditions within recognized limits of the materials that make up the wall system.
Evaluation of Ventilation Strategies in New Construction Multifamily Buildings
In multifamily buildings, particularly in the Northeast, exhaust ventilation strategies are the norm as a means of meeting local exhaust and whole-unit mechanical ventilation rates. The issue of where the fresh air is coming from is gaining significance as airtightness standards for enclosures become more stringent. In this study, researchers found that most high performance, new construction, multifamily houses in the Northeast use continuous exhaust only, with no designated supply or make-up air source, continuous exhaust with ducted make-up air to apartments, continuous exhaust with supply through a make-up air device integral to the unit HVAC, or continuous exhaust with supply through a passive inlet device, such as a trickle vent. This research effort included several weeks of building pressure monitoring and sought to provide field validation of system performance.
Technology Solutions Case Study: Capillary Break Beneath a Slab: Polyethylene Sheeting Over Aggregate, Southwestern Pennsylvania
In this project, Building America team IBACOS worked with a builder of single- and multifamily homes in southwestern Pennsylvania (climate zone 5) to understand its methods of successfully using polyethylene sheeting over aggregate as a capillary break beneath the slab in new construction.
Additional reports published recently are:
Airtightness Results of Roof-Only Air Sealing Strategies on 1-1/2 Story Homes in Cold Climates
Balancing Hydronic Systems in Multifamily Buildings
Existing Homes Case Study: Evaluation of Missed Energy Saving Opportunity Based on Illinois Home Performance Program Field Data: Homeowner Selected Upgrades vs. Cost-Optimized Solutions
Visit the Building America Publications Library to access the entire catalog of publications to help improve the efficiency of new and existing homes.
Want to learn more about Building America or help us spread the word about the program? View the new video, "What is Building America?" on DOE's YouTube channel to learn about how Building America aims to bridge the gap between homes with high energy costs and homes that are healthy, durable, and energy efficient.
Please forward this announcement to colleagues who may be interested in subscribing to future updates about Building America.