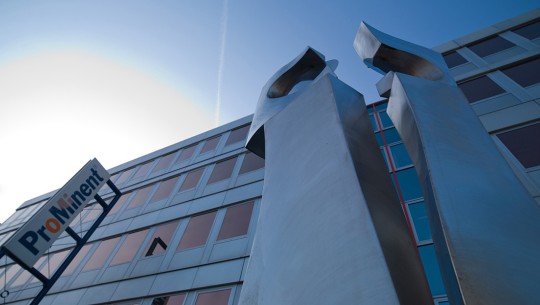 ProMaqua will be launching its new chlorine dioxide system Legio Zon CDLb at the forthcoming ACHEMA exhibition. The new system concept will ensure the innovative generation and metering of chlorine dioxide, resulting in minimal use of chemicals and improved stability of the chlorine dioxide solution produced. Its intrinsically safe process method, including the sealed transport of gas, guarantees outstanding operational safety.

The chlorine dioxide system CDLb uses the chlorite/acid process to generate a chlorine-free chlorine dioxide solution by reacting sodium chlorite solution with hydrochloric acid. The innovative reactor design produces an output of well over 90 percent, thereby guaranteeing economical, environmentally-friendly operation with minimal use of chemicals.

Safety and long-term stability

The system is equipped with a storage module for the intermediate storage of a chlorine dioxide solution with a concentration of 2,000 ppm of CIO2, generating a total of up to 120 g of CIO2 per hour and there is also no need to treat leaking ClO2. The size of the system has been reduced to compact dimensions, although an intermediate storage chamber has been integrated.

Legio Zon systems are also available with an external storage module to supply several points of injection simultaneously – even with significantly fluctuating demand.

The modular construction of the system enables it to meet a range of different applications. Possible applications of the chlorine dioxide system Legio Zon CDLb are above all in the prevention of legionella and in disinfection in the food and beverage industry, although other possible uses include the treatment of cooling water, waste water and potable water.