Display program Update: New versions and extended functions
In the "CIT range" under its "Evaluation" field of products, BD|SENSORS is offering a family of digital displays and data loggers for digitization and visualization of analog measurements in everyday industrial life. The products have been comprehensively reworked to now include new functions and designs.
In addition to inputs to capture standard signals (current and voltage), the instrument series also offers models for temperature measurement (resistance thermometers and thermocouples).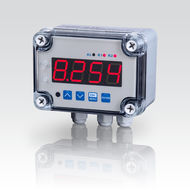 Optional extension of the temperature range to -20°C to 50°C and the robust wall mounted IP65/IP67 housing ensure reliable operation under aggravated environmental conditions. The range of analog output signals was extended by a model with 0 … 10 V output.
The new features on our Multitalent CIT 700/750 turned out the most comprehensive.
An overview:
For their configuration of this universal measurement data acquisition system users currently have ca. 50 different I/O modules and 3 types of enclosure to choose from.
SCADA-Lite allows users to configure their screen to suit the requirements of their specific application. Visualization may be optimized using background images, links, control elements and numerical and graphic displays.
A multilevel password system was implemented to allow multi-level access rights to suit operators and users. Logging on of up to 16 users is simplified also by the option via USB dongle.
The e-mail function allows transmission of current measurement data and messages to communicate alarm and monitoring status.
Standard web browsers offer real-time overviews of all relevant process parameters – including on mobile terminals such as tablets or smartphones. Integrated HTML5 widgets prepare the measurements for graphic display and may also be integrated into demanding applications for monitoring.
A feedback control system may now be configured via one of the 8 integrated PID controllers with independent parametrization via a new autotuning function. The often time-consuming manual determination of control parameters may thus be dispensed with.