ESdat Newsletter Dec 2015
It's been a busy year at EScIS, with lots of great new software being developed, and projects being completed. Some of the key highlights are below:
ESdat Server v 2 Released
EScIS is pleased to announce some great new features available for using ESdat data in the ESdat Server Web Interface.
Field & Locations Portal -Updated and Improved! Create, search, describe and photograph sampling locations in the field. Collect data directly onto a tablet.
Custom Reports - View your ESdat data in custom reports that can output direct to PDF. Perfect for generating recurring reports, or data dependant report sections.
Graphing - Standard Graph-style reports are now available under Data Views so a series of graphs of monitoring results can be output direct to PDF.

To read more about ESdat Server visit here
Lab Initiated Report Upload
Automatically import laboratory data with the ESdat Lab Initiated Report Upload, then automatically notify users of the import via email (see below) .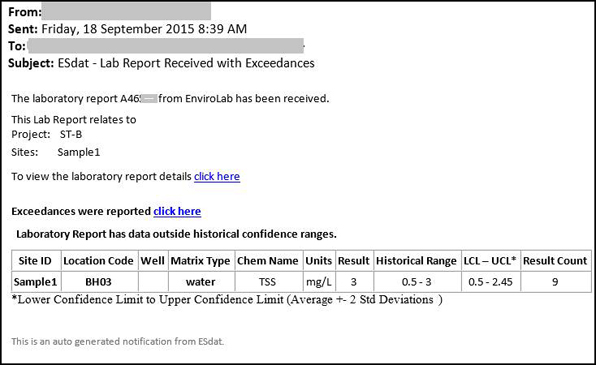 Any identified data errors are reported to the laboratory with a detailed and automated description. Users need not worry about fixing data file issues or ChemCodes.
The Lab Initiated Report Upload is a key mechanism in standardising quality and protocols in uploading laboratory reports. Users can be assured lab reports are not "missed" when key staff either are not available or move on.
Users see their data immediately in a Chem Table or on a Map.
Public Portal & Aquadata
The ESdat Public & Client Portal is a great way to share client approved data online with the public or a selected audience.
The Shoalhaven City Council "Aquadata" branded Pubic Portal has now been operating for 12 months. Laboratory results are automatically received into ESdat Online, and council staff sent a notification triggering an internal review. Approved results are immediately displayed on the public interface.
LSPECS & pLog
LSPECS and pLog continue to be taken up across the industry. LSPECS provides for planning of samples and the generation of electronic Chain of Custody files, while pLog provides for field data collection of monitoring or borehole data.
LSPECS and pLog combined yield real productivity improvements around sampling. Typographic errors are eliminated from COCs, laboratory requests are rigorously controlled, and QA data are automatically reconciled when a laboratory report is received.
For borelogs, data from pLog can be reviewed in the field, or office even while staff are still logging, which will be further improved when our new web-based borelog presentation software (see later) is fully available.
We are pleased to announce LSPECS and/or pLog is being used by the following companies:
Origin Energy (LSPECS only)
MMG Rosebery
Cardno Lane Piper
GHD (PLog only)
Robson Environmental
Environmental Strategies
LBWEP
Cristal Mines
We are very grateful for the feedback provided from these clients as we see this as a key area where real benefits in productivity and accuracy can be achieved.



New ESlog
borelog presentation software
Production of bore logs has traditionally been through desktop database applications, such as gINT and WinLog, or for many people, Excel!
EScIS has recognised the need for an alternative to the current options, focussing on being:
Simple, fast and intuitive to use
Simple integration with database systems (ESdat and/or pLog)
Web/Server based (no installation required)
Competitively Priced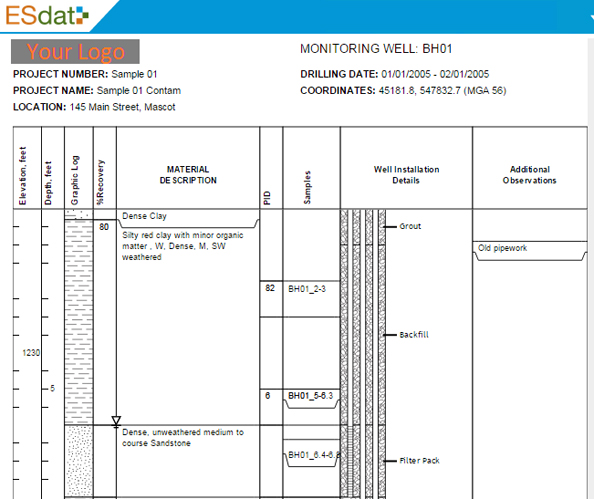 A beta version is now available, and beta testers are being sought. Please visit logs.esdat.net To export directly from ESdat Desktop you will need to update to 5.1.27.
Queensland Office of Groundwater Impact Assessment adopts ESdat
The Queensland Office of Groundwater Impact Assessment (OGIA) has adopted ESdat to consolidate, manage and report CSG Water Quality Data. OGIA receive data from multiple CSG and other mining companies, as well as other government departments and needs to effectively consolidate, analyse and report this data. EScIS is excited to be working with OGIA in implementing ESdat Desktop and ESdat Server. Read more
ESdat Online - Cloud based laboratory reporting.
The completely cloud and web based ESdat Online continues to gather momentum, amongst consultants, siteholders and beyond. Site holders are enjoying the easy, accessible and cost effective single source of truth for all their laboratory data. Data interpretation can be done straight away. Amongst Consultants the key benefit is the simple and dedicated interface optimised for managing laboratory reports, and the usage fees are reported by project (no capex costs).
Anyone interested in trialling ESdat Online with their own 'real data' can do so free of charge.
Simply go to online.esdat.net and click Request New Account.