Getting Metal Out of Beer
Thankfully, it is very unlikely that you will ever find a piece of metal in your glass of beer. However, when tramp metal (in the form of screws, nails, broken process plant, etc.) is accidentally introduced during the brewing process, it damages processing equipment and can even affect the taste of the beer. In this article we look at the best methods of ensuring that the brewing process is unaffected by tramp metal.
As with any food process, there are many locations where metal can be inadvertently introduced. With raw materials being collected from the fields and then transported to the brewery in large trucks, contamination by metal and other materials is unavoidable.
Here we look at a typical brewery and identify where Magnetic Separators and Metal Detectors could be located to remove any metal contamination.
Raw Materials
Location 1 - Malt In-feed Line
When the malt is delivered by truck or rail, it is commonly pneumatically transported into storage silos. A Pneumatic Inline Magnet and/or Metal Detector both captures tramp ferrous metal as well as identifying and automatically removing non-ferrous metals prior to storage.
A Pneumatic Inline Magnet is designed to easily fit into a pipeline without causing any obstruction. Inside the housing, a strong Plate Magnet (featuring either deep-field Ferrite magnets or ultra-strong Rare Earth magnets) is mounted on one side and attracts and firmly holds any ferrous metal. The captured metal contamination is manually removed on a scheduled frequency.
The Metal Detector identifies and then automatically ejects any remaining metal contamination, both ferrous and non-ferrous. As most metal contamination at this stage is ferrous, installing the Metal Detector after the Inline Magnet reduces the amount of metal detection rejects and thus reduces the loss of product. There are a wide range of metal detectors designed for use in pneumatic lines, with the final selection based on the specific installation.
Location 2 - Prior to Milling
Grate (or Grid) Magnets positioned in or above the in-feed hopper to the mill protect against potentially catastrophic and costly metal damage to the mill. For maximum protection, the Grate Magnet features Neodymium Iron Boron Rare Earth Tube Magnets, the strongest permanent magnets presently available.
A Grate Magnet features a series of Tube Magnets in a grid which fits inside a hopper. Deflection bars, mounted above the Tube Magnets, deflect product onto the surface, thus ensuring maximum capture of magnetic particles.
The Brewing Process
Location 3 - Hot Water Feed to Mash Tun
Water is a common source of metal contamination in food processing plants and is often overlooked. The nature of water means that rust is common and a Magnetic Liquid Trap is used to attract and capture any rogue ferrous metal, even in a very fine form. A Magnetic Liquid Trap is easily fitted into a pipeline, with flanges or any other connector. Inside the body, high strength Rare Earth Neodymium Tube Magnets project down into the material flow, attracting and capturing any ferrous or weakly magnetic materials. The Tube Magnets are removed from the process and manually cleaned on a scheduled frequency.
Location 4 - Between Mash Tuns, Mass Tubs and Whirlpool/Settling Tank
Magnetic Liquid Traps are commonly located located between the Mash Tuns, Mash Tub and Whirlpool/Settling Tank, especially if there has been limited protection earlier in the beer making process.
Location 5 - Hops In-feed Line
Protection is important whenever raw materials are introduced into the process and Grate Magnets and a quickTRON Metal Detector ensure that hops entering the mash tub are metal-free. This design of Metal Detector is for free-fall material. As the material enters the metal detector, any metal is detected and then automatically rejected. The strong neodymium rare earth Grate Magnet, positioned prior to the Metal Detector, reduces the amount of feed material lost during the rejection process by capturing any ferrous metal.
Location 6 - Between Mash Tub and Whirlpool/Settling Tank
After the mash tub, a Magnetic Liquid Trap, with special Neodymium magnets designed to withstand high temperatures, will provide final protection prior to settling. It is important to recognise that standard neodymium rare earth magnets permanent lose magnetic power in high temperature environments.
Fermentation & Finishing
Location 7 - Yeast In-feed Line
As with the hops in-feed line, a combination of a Grate Magnet and quickTRON Metal Detector will ensure that any metal does not enter the process with the externally-supplied yeast.
Location 8 - Between Beer Conditioning Tank and Filter
To protect the filter, a Magnetic Liquid Trap is often installed after the conditioning tank.
Location 9 - Prior to Beer Bottling
As in many food processing plants, it is good practice to install a Metal Detector (in this case a p-TRON) at the final stage of the process. This provides a last stage of protection to ensure that any metal introduced into the beer making process from damaged processing equipment, such as the filter or in the pipes, is detected and removed.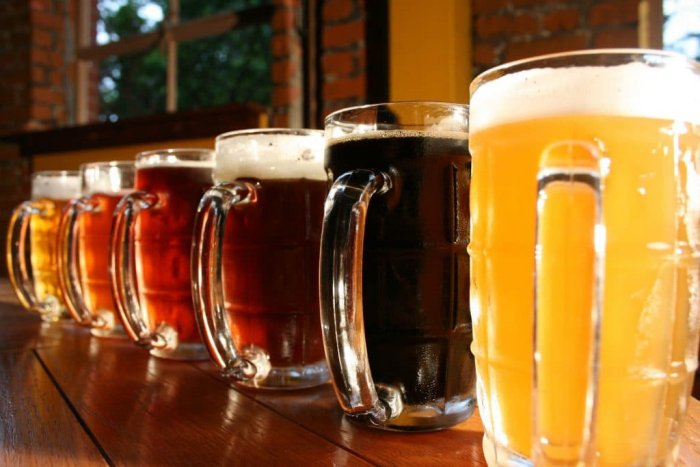 This is a typical example of a Beer Brewing Operation. However, each plant is unique and often a site visit is required to assess and recommend the best ways to ensure a metal-free end product.
Related Metal-in-Food Technical Articles
For further information on Magnetic Separators and Metal Detectors used in removing metal contamination from beer or for any food processing application.