Commercial Reverse Osmosis Systems are in high demand and we at Aqua Clear Water Treatment Specialists can customize a system to fit just about any water criteria. Commercial RO systems are used in many applications. Some common applications are the car wash industry, mobile pool filtration, microelectronics, text tiles and beer breweries to name a few. Each system is unique and custom designed to the specific water type. Each design of our commercial reverse osmosis systems start off with a water analysis of which we look at each constituent in the water and their levels that way we can take care of the requirements of our customers needs.
There are many applications and important uses for a commercial reverse osmosis system, such as filtration for municipal and well water sources. The beer brewing industry utilizes reverse osmosis water treatment in conjunction with other water treatment equipment to achieve a high quality product for their customers to enjoy. The agriculture and food industry benefits from the use of reverse osmosis in many ways. When we manufacture a commercial reverse osmosis system for a agriculture application we suggest a blending valve for the operator of the RO system to dial in the chlorides and TDS levels for their desired products. Some other applications for a Commercial RO System are car washing, coffee companies, textiles, window washing, microelectronics and pool filtration.
Commercial Reverse Osmosis System Container
Aqua Clear Water Treatment Specialists can customize and design a commercial reverse osmosis systems using state of the art 3D engineering. When designing a system for a client we take many things in to account ensuring we are covering all of the bases for the water quality requirements.
Design Criteria:
Water analysis
Space requirements
Delivery time
Water quality requirements
Quality assurance
High quality manufacturing
Ease of operation
Ease of maintenance
Commercial Reverse Osmosis 6,000 GPD rendering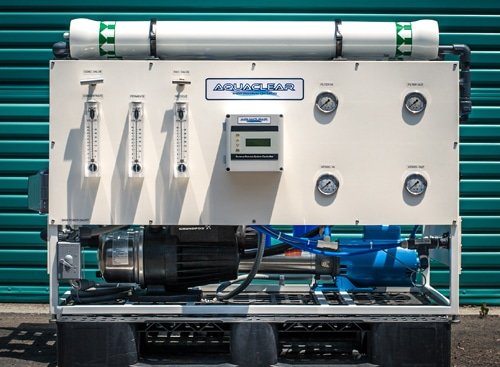 Commercial Reverse Osmosis 6,000 GPD manufactured