Sierra has a tradition of innovation spanning over 40 years and this spirit of innovation continues to drive our engineers each day! We are delighted that Flow Control has noticed. Each year, Flow Control, a flow measurement industry magazine, selects fluid handling products they feel are worthy of being called the "Innovation of the Year" and nominates them to be voted on by its readership. We are excited to say our InnovaMass 240i/241i iSeries vortex mass flow meter has made the cut and been nominated for Flow Control's 2016 Innovation Award. Please discover why our InnovaMass is so innovative and take a moment to vote for Sierra today.

The Story of InnovaMass Innovation

In the 1990s, Sierra designed and introduced InnovaMass, the first multivariable mass vortex flow meter in the world. Through a single process connection, our multivariable insertion InnovaMass mass vortex flow meter provided customers with mass flow rate, volumetric flow rate, density, temperature and pressure-five instruments in one. Now with the latest hyper-fast microprocessors, robust software applications, and our new automated state-of-the-art flow calibration facility, the completely redesigned InnovaMass 240i/241i iSeries mass vortex flow meter delivers precision, performance, and application flexibility never before possible. The InnovaMass iSeries has been specifically designed for precise flow energy management to reduce costs and increase productivity in steam, compressed air, natural gas, and water applications–offered in both volumetric and multivariable versions.
The Flow Engine Behind It All
Our engineers have perfected the mechanical design of the iSeries vortex flow meter with the new MassBalance sensor, but the real force multiplier is the development of the Raptor II operating system. Originally developed as the operating system for our QuadraTherm thermal mass flow meter, Raptor II OS is the "flow-engine" programming inside every InnovaMass iSeries vortex flowmeter. Raptor II OS uses advanced digital signal processing and proprietary mathematical algorithms to enhance the flow signal, while also calculating the thermodynamic properties of the gas, liquid or steam being measured in real-time.
Raptor II OS accomplishes the following:
Easily manages all five process variables in real time
Allows for field firmware upgrades
Enables creation of unique fluid mixtures with qMix
Enhances velocity signal for greater sensitivity at low flows
Interfaces with the Smart Interface Portal (SIP) software to read and adjust meter in the field
Includes a fluid database with nearly all liquids, gases, and complete steam tables
The Game Changer–It Has Apps!
With the powerful Raptor II OS, now InnovaMass offers customers apps to exponentially improve application flexibility and ease of use. These apps allow customers to change pipe sizes, make fluid adjustments, validate software, and tune the meter all through the onboard Smart Interface Portal (SIP).
InnovaMass Apps include:
ValidCal Diagnostics delivers field validation
Meter Settings cancels noise and improves accuracy
FloPro™ improves point-velocity accuracy
Dial-A-Pipe™ allows you to quickly change pipe sizes in the field
Dial-A-Fluid™ to change fluids without loss of accuracy
qMix to create custom mixtures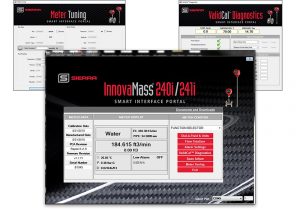 These apps are a game changer for application flexibility and make the InnovaMass the most precise and easy-to-use mass vortex flow meter on the market.
Help make the 240i/241i iSeries a winner: Vote for Sierra today.