IVERNA 2000 Installs Fundilock in Logroño to stop copper theft
On April 18, 2018 IVERNA met in Logroño Juan Carlos Sáenz-Díez Muro, professor of the Department of Electrical Engineering of the University of La Rioja, and Rafael Álvarez Ruiz, Deputy D.G. and Head of Energy Efficiency, Town Hall of Logroño. A successful test installation was made in an electric inspection chamber in front of the Faculty of Science and Technology at the expense of being able to replicate this action in trouble spots in the city that are suffering from the common copper theft.
It is estimated that in the last five years more than 45 kilometers of copper cable has been stolen, which would have been sold in the illicit market for 22.500€. The replacement price is however higher because it is common that the action of cutting the cable leads to other damage to the whole installation that the City Council must repair.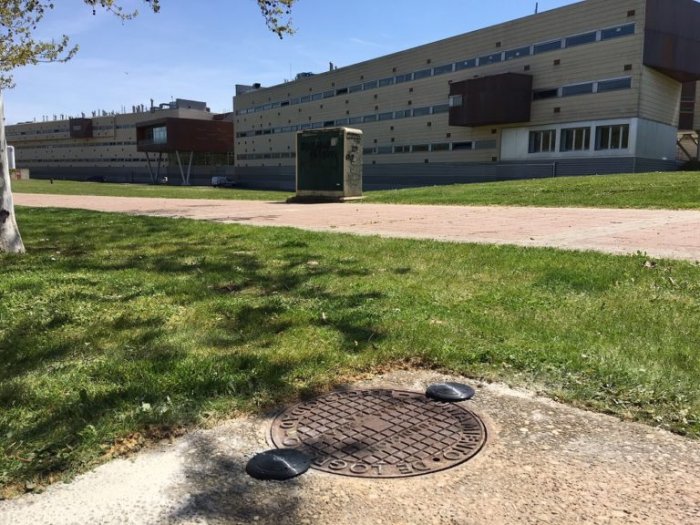 The areas especially sensitive to these crimes would be the periphery, like the industrial park of Las Cañas, where even a transformer has been dismantled to store it, and parks such as La Ribera or Ebro, but also Santa Juliana and the neighborhood of El Campillo.
The method is not particularly sophisticated, the thief arrives with a van, preferably white, that can give the hit as a municipal vehicle or maintenance company. And, thus, wearing a diver, lift the manhole cover, pull the cable and take it, always at daylight, which is when the cable does not transmit power.
With the installation of the FUNDILOCK manhole cover security system, it is difficult to open the manhole cover of the electric inspection chamber containing this precious metal. Its washers of different sizes and qualities range from polypropylene with a galvanized or stainless steel core to a solid stainless steel washer that can be installed in the vehicular passage zone. Its special high security screw makes it practically impossible to loosen unless the right key is available. Thus, Fundilock acts as a deterrent providing preventive security and increasing the likelihood that thieves will be caught red-handed, since the theft is carried out in broad daylight.
The fact that IVERNA supplies the key only to authorized maintenance personnel allows the casing to be inspected without the need for difficult works, such as when welding the cover directly to the frame.
Let's not forget that Fundilock has already been successfully installed in a multitude of municipalities in Spain, as well as the nuclear power plants of Ascó, Vandellós, Almaraz and Trillo. Currently the IVERNA export department is promoting its commercialization to alleviate the severe problem of theft not only of copper but also of manhole covers, which suffer many Latin American countries (Mexico, Colombia, Ecuador, Dominican Republic, Chile or Argentina).
Most popular related searches