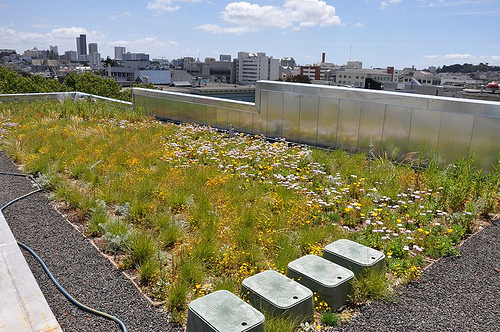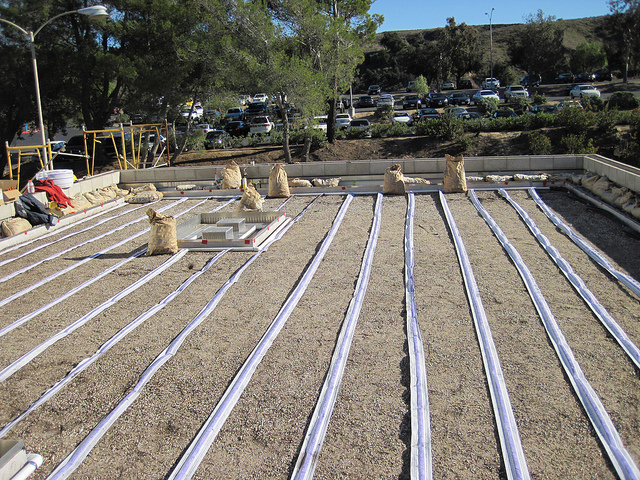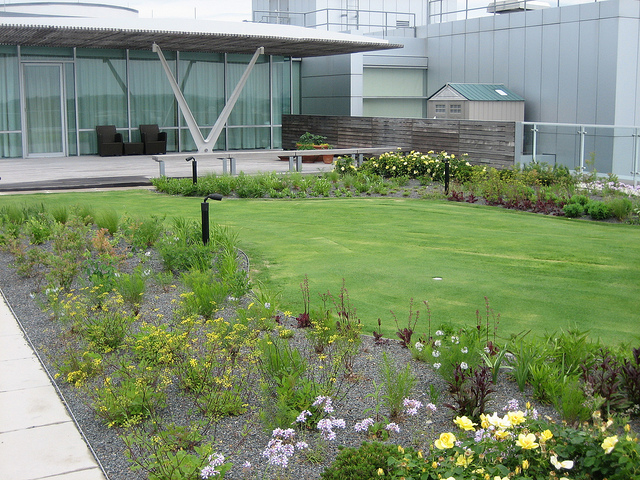 Longmont, COLO (PRWEB) August 23, 2011 -- The installation of KISSS sub-surface textile irrigation is on the rise for green roof projects in 2011, keeping pace with the overall growth of the green roof industry in the United States. According to Green Roofs for Healthy Cities, green roof installations grew by 28.6 percent in 2010, up from 16 percent in 2009, and that growth is expected to continue. KISSS products, manufactured and distributed in the United States by KISSS America, have been installed on seven green roof projects so far this year and are specified in an additional 13 projects for the second half of 2011.
"KISSS is ideally suited for green roof installations and is the only proven effective irrigation system for many advanced green roof designs," Dave Hunter, President and CEO of KISSS America, said. "We are now two years out from our installation of KISSS on the Target Center green roof in Minneapolis where plant life continues to thrive and storm water runoff is being diverted. In fact, our 11 miles of irrigation lines used for the Target Center has been credited with the successful growth of the plants especially considering the shallow depth which required the native plant roots to adapt with horizontal growth versus vertical. The success of this and newer projects will continue to prove that KISSS is the right choice for these innovative projects."
In 2011 KISSS has been installed on green roofs across the country including: Indianapolis Department of Public Works; Milstein Hall at Cornell University in Ithaca, New York; Burbank Water and Power in Burbank, Calif.; MD Anderson Cancer Center in Orlando, Fla.; Clark Montessori School in Cincinnati; Ontario City Hall in Ontario, Calif.; and a private residence in Boulder, Colo. Past landmark projects include the Target Center green roof and the William J. Clinton Library and Museum green roof in Little Rock, Ark.
KISSS Below Flow Flat and Below Flow Wrap are most often used on green roof installations. However the unique shape of the Ojai Foundation's building roof called for installation with the company's Ebb and Flow Mat, traditionally used in nursery applications. The application of each product type depends on the roof's structure and shape and is designated by the project designer working in concert with KISSS America experts.
KISSS systems use significantly less water than a traditional sprinkler system with less power, fertilizer, and other chemicals resulting in better turf and plant quality. KISSS works by pulsing water through sub-surface lateral irrigation lines to a geo-textile fabric that disperses water into the soil directly to the root zone. The geo-textile fabric maintains moisture uniformity along its length and allows soil to absorb water as needed at a slower and more effective rate, while also reducing drainage losses below the system. With proper scheduling, KISSS will sustain an optimum soil water balance, eliminating the 'feast or famine' soil moisture condition delivered by other systems.
Green Roofs for Healthy Cities attributes much of the industry's growth to governments that seek their storm water, air quality, green space and city cooling benefits. The organization also notes that major cities such as Chicago, Washington, New York and Portland lead the way with incentives and regulations that recognize the many benefits from green roofs, including much needed green jobs in their communities.
For more information on KISSS America, visit online http://www.kisssusa.com.
KISSS America, formerly Irrigation Water Technologies America, Inc., recently introduced a revolutionary, patented irrigation technology to the United States, Canada and Mexico. The KISSS system utilizes capillary action to deliver water directly to the root zone in turf, gardens, and trees. As a result, the system uses significantly less water than sprinklers and conventional drip irrigation, yet uniformly wets more soil volume. In addition to using less water, the system makes it possible to add chemicals to the root zone only, eliminating run off and pollution. The KISSS system was used in the creation of state-of-the-art living roofs at the Target Center in Minneapolis and the William J. Clinton Presidential Library in Little Rock, Arkansas. The Clinton facility is the first presidential library to earn an award from the U.S. Green Committee for environmental design.
###
Read the full story at http://www.prweb.com/releases/2011/8/prweb8740513.htm