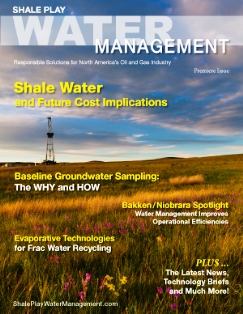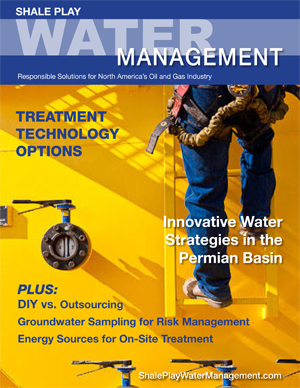 DENVER, Colorado (PRWEB) May 22, 2013 -- The shale industry is impacting the U.S. economy to the tune of hundreds of billions of dollars in investments, millions of new jobs, and a renaissance of American ingenuity and innovation. The one wild card that could negatively impact its future growth is water, and its significance cannot be understated.
"Shale Play Water Management answers the critical need for a single, credible industry resource covering this essential topic," says Executive Editor and Publisher, David A. Hill. "We're 100 percent dedicated to helping operators reduce fresh water usage and costs, while enhancing production and regulatory compliance." Mr. Hill was the founding publisher of Pumps and Systems magazine, as well as other B2B niche publications serving the industrial process and engineering markets.
"While water stress is a global concern, the management of produced and flowback fluid has very specific regional implications," notes Marcus Oliver Gay, IHS Research Director for Water Information and Insight, and an Editorial Advisory Board member for Shale Play Water Management. "With multiple drivers impacting operational and economic decisions today and in the future, optimization throughout the water-value-chain is a hyper-regional challenge that continues to evolve on a daily basis."
According to Hill, the future of the industry is working the entire water lifecycle, and this is reflected in the editorial mission of the magazine and its website. Each issue will deliver solutions-driven content written by thought leaders and experts in their respective fields.
"There is no single silver bullet to drive down fresh water use and the costs associated with its use in hydraulic fracturing," notes RM Media Group Executive Vice President, John Pellettieri. "From water sourcing and well flowback, to transportation, reuse and recycling, it is essential that operators use an integrated approach to meet the challenges ahead."
Editorial deadline for the premiere issue of Shale Play Water Management is June 14th; ads are being accepted up to June 24th. For more information, contact David Hill at DHill(at)RMMediaGroupLLC(dot)com or call 720-536-5253. Advertising inquiries should be sent to John Pellettieri at JohnP(at)RMMediaGroupLLC(dot)com or call 818-368-5620.
RM Media Group, LLC specializes in media solutions for energy markets, including Niobrara Report magazine, and websites: Colorado Energy News and Wyoming Energy News.
Read the full story at http://www.prweb.com/releases/2013/5/prweb10750437.htm