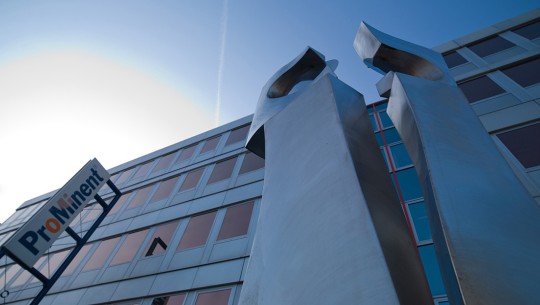 Metering system DULCODOS universal mini - Flexible and compact
For reliable metering of chemicals, users need not just flexibility but also a space-saving construction. The complete metering system DULCODOS® mini guarantees just that and, fitted with a pump, rounds off the metering systems product range available from ProMinent. The new system is being unveiled in Hall 6 on Booth 6-208 at BrauBeviale 2018 in Nuremberg.
Flexible and compact
There are several models to choose from. Users can select perfectly coordinated components, depending on material resistance, pump capacity and function. Their choice produces a customised system with mounting plate, complete piping as well as hydraulic and electrical accessories. Solenoid-driven metering pumps lie at the heart of the metering system. Depending on the metering pump used, capacities are between 0.74 and 32 l/h when using the solenoid-driven metering pump Beta®, range from 2.3 to 45 l/h when a metering pump gamma/ X is used or if the solenoid-driven metering pump delta® is fitted are in the range of 7.5 – 75 l/h with back pressures of 25-2 bar.
Every system is equipped with relief valves, collecting pan with leak sensor and a calibration tank for controlled metering for complete operational safety. This simple configuration enables fast delivery and seamless commissioning.