Miami, FL, USA --
NEW !!! 50,000 US GPD Containerized desalination system available… multimedia filtration system included within a 20′ ISO acoustic and thermal isolated container. Just ready to ship and easy to deploy on site.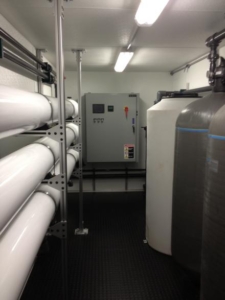 Ready to be shipped from our warehouse located in Coral Springs Florida USA, For $159,000 USD .

Main features:
20' ISO container - Sound barrier and R19 thermal insulation
Control and Power panel including:

PLC,

HMI,

VFDs,

Program
Instrumentation:

Conductivity,

Flow meters,

Pressure gauges,

Pressure swicthes adjustable 316L

Multimedia filters:Four (4) 28' x 66' fiberglass filters with manual multiport valve,

Turbidex filtration media
Pressure vessel:Three (3) Enceladus PV 1000 PSI with side ports x 4 elements
Membranes:Twelve (12) membranes SWC6LD
High pressure RO pump: KSB or similar pump with 25HP TEFC motor 480/380V - 50/60 Hz - 3P
Energy recovery device:

Pressure exchanger or Turbo charger
Cleaning in Place and Flushing system:

Grundfos 316 pump with 5 HP TEFC motor

PP tank 220 Gallons
Connection and automatic operation

Structural frame: Anodized aluminim marine grade for longer corrosion resistance
Operation: Automatic
Alarms protections: all shall be indicated with in the HMI display

Low pump suction pressure
High pump pressure discharge
Permeate water quality
Low permeate flow
High permeate flow
Low reject flow
Low/high voltage
Phase protection
Pump motor overload
High membrane feed pressure
Chemical tank protection level
Flush storage tank level protection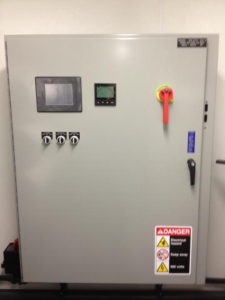 Pict #2: Electric Panel.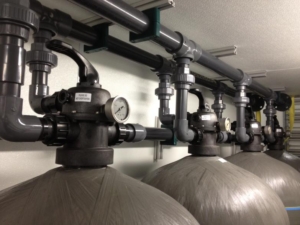 Pict #3: Multimedia Filters.