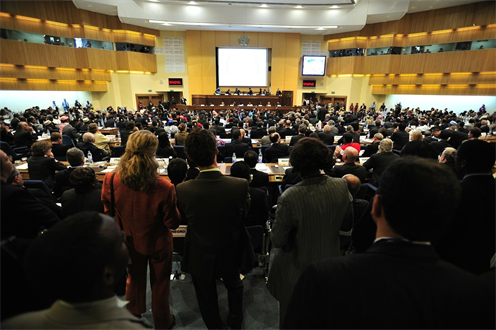 NYPA and AT&T to Assess Climate Change Impact on Utility and Telecommunications Industries
September 2, 2021 -- The New York Power Authority (NYPA) and AT&T will collaborate in a first-time arrangement to share climate data to identify risks to utility and telecommunications infrastructure and better position New York State to be more resilient to extreme weather. A changing climate poses challenges when it comes to hardening assets and strengthening resilience of the electric grid. Furthering ongoing research will benefit both the energy and telecommunications sectors.
'The utility and telecommunications industries are interdependent, especially in an emergency, and this collaboration will help us both be able to mitigate potential costly events related to our climate,' said Gil C. Quiniones, NYPA's president and CEO. 'As part of this climate study, researchers will use hyper-localized climate data to help inform and plan smart infrastructure investments for optimal resiliency and reliability. This will help us be better positioned to be more prepared for climate-based events.'
The collaboration will supplement and advance an ongoing climate study announced by NYPA previously on the long-term effects of climate change being conducted by Argonne National Laboratory, a U.S. Department of Energy science and engineering research center, in collaboration with the Electric Power Research Institute (EPRI) and Columbia University's Center on Global Energy Policy (CGEP). An interdisciplinary team of scientists and engineers will use state-of-the-art climate and infrastructure system modeling techniques, and one of the world's fastest supercomputers, to determine the risks an ever-changing climate may pose to NYPA's infrastructure and operating systems.
AT&T will grant access to New York State climate data to advance the NYPA models, and the more granular data created during the project will be shared with both parties. NYPA will also benefit from a live demonstration of AT&T's Climate Change Analysis Tool and discussion of plans around climate resilience.
'Since the launch of our Climate Change Analysis Tool, we have understood the importance of sharing our rich climate datasets with others to help assess vulnerability and build resilience,' said Shannon Carroll, director of global environmental sustainability at AT&T. 'Collaborating with NYPA is one way to ensure communities across New York can better understand and prepare for the long-term impacts of climate change.'
The energy and telecommunications sectors both have infrastructure that needs to withstand extreme weather events such as floods, heat waves and hurricanes. They are also interdependent, and both are needed to effectively and expediently recover following an extreme weather event.
AT&T previously commissioned Argonne to model inland and coastal flooding and high-intensity wind speed in the Southeast United States to help understand the potential impacts of climate change at the neighborhood level. AT&T has since announced an expansion of its Climate Change Analysis Tool to the contiguous 48 states as well as the addition of data to assess drought and wildfire risk. The company has been using the modeling to guide its climate resilience efforts in order to make its network resilient in the face of future climate change.
Source: New York Power Authority
---------------------------------------------------------------------------
Upcoming Events of Interest from SGO:
3rd Utility Cyber Security Forum, October 6-7, 2021, Chicago
https://smartgridobserver.com/security/index.htm
2nd Long-Duration Energy Storage Forum, November 16-17, 2021, Sacramento, CA
https://www.smartgridobserver.com/storage
8th Annual Demand Response & Distributed Energy Resources World Forum, October 12-14, 2021 in Los Angeles
https://www.smartgridobserver.com/DER-Forum/
6th Annual Smart Cities Technology Symposium & Exhibition, January 18-19, 2022, Chicago
https://smartcities-symposium.com/
14th Microgrid Global Innovation Forum - North America, February 15-16,2022, Sacramento
https://www.microgridinnovation.com/North-America/
15th Microgrid Global Innovation Forum - EMEA, April 12-14, 2022, London
https://www.microgridinnovation.com/EMEA/