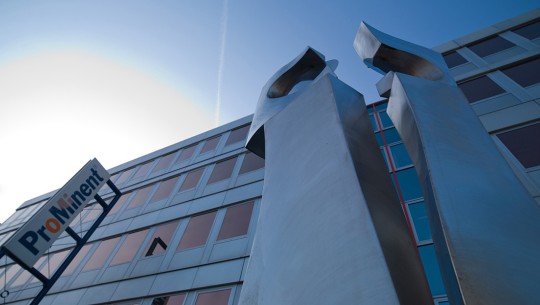 ProMinent at aquanale 2013 - The ultimate in water treatment with tailor-made solutions
aquanale -- ProMinent is presenting energy-saving and environmentally-friendly solutions at stand H-031 in hall 10.1 at aquanale. These include: electrolysis systems, UV systems, ready-to-connect metering stations, networked controls and an electronic operational diary.
One highlight is the high-performance multi-channel, multi-parameter measuring and control system DULCOMARIN®II with soft PLC (Programmable Logic Controller). This greatly improves the functionality of the measuring and control system and can be programmed individually. All named components, required for filter backwashing for example, can be activated and monitored with the soft PLC. The ECO mode! of the DULCOMARIN® II can be used to regulate the circulating pump to match requirements and to reduce energy consumption to a minimum. As an added benefit of the measuring and control system, the easy-to-operate pool control EcoPad can be used to monitor and activate all typical pool applications from any location using a tablet PC or smartphone. All parameters necessary for ensuring hygienically clean swimming pool water can be specifically configured for each of the facility's pools. The highlight: it is equally straightforward to configure the individual functions of the swimming pool and spa facilities, for example the adjustment of air and water temperature, or adjustment of the various filter circuits and attractions, as it is to call up the operating parameters.
Economical and straightforward disinfection
Disinfection tasks in the swimming pool can be performed with little effort and easy operation of the metering system ProCal. The system can be used to disinfect water for medium-sized and large swimming pools economically and reliably in accordance with DIN 19643-1. ProCal generates an effective and chlorate-free disinfection solution from calcium hypochlorite granules. The integrated and fully automated metering unit accurately injects the exact amount of this solution into the swimming pool water via a bypass line.
No hazardous chemicals
As a safe alternative to conventional chlorine products, the Heidelberg-based manufacturer is exhibiting its electrolysis systems CHLORINSITU® III compact and CHLORINSITU® IV compact which represent efficient and particularly low-chlorine Smart Disinfection solutions for the treatment of swimming pool water. The systems generate sodium hypochlorite or a highly active disinfectant directly on site from sodium chloride and water.
Depending on the selected model, the electrolysis system CHLORINSITU® IV compact can also correct the pH value using the simultaneously generated sodium hydroxide. The compact systems are ideal for private pools or small public pools.
Reliably breaking down chloramines with UV light
UV systems Dulcodes S reliably break down chloramines. Depending on the measured value of combined chlorine, short-wave UV rays eliminate the unwanted by-products of pool water chlorination. In addition, chlorine-resistant germs in the water are reliably killed off. As soon as the concentration of by-products has fallen below the level required by DIN 19643-1, the UV system is automatically switched to standby mode to minimise costs, thereby ensuring that the system operates cost-effectively. The inline design of the UV systems makes them easy to install and they are also ideal for quick retrofits.
Tailor-made solutions
ProMinent develops and produces systems utilising all common processes for water treatment, focusing on hygiene and disinfection. The product line and service offerings include chlorine-dioxide systems, electrolysis systems, UV systems, ozone systems and membrane filter systems. Various pumps, such as peristaltic pumps for metering of flocking agents, and motor-driven and solenoid diaphragm pumps for the exact metering of disinfectants and adjustment of the pH value, as for matching measuring, control and metering technology, round off the product spectrum. This means that operators of private or public swimming pools always obtain tailor-made and energy-saving solutions for pool and spa facilities.