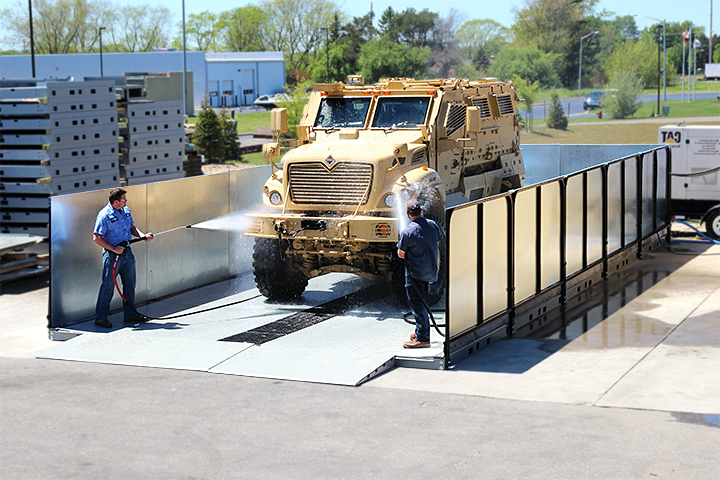 South Haven, MI (PRWEB) December 06, 2012 -- Riveer Environmental, manufacturer of equipment wash systems for military, industrial and commercial applications, has expanded its line of wash racks to meet the increasing demand for wash water containment.
Riveer Racks are designed to contain wash water that is produced when cleaning commercial vehicles typically after daily use or before leaving job sites. Once allowed to drain freely into sump areas or sewer systems, wash water is now recognized as an environmental hazard by a growing number of federal, state and local governing bodies. As a result, Riveer Racks are becoming the go to solution for organizations complying with the Storm Water Pollution Prevention Programs being set in place by governments to prevent wash water from finding its way into sewer systems, streams, ponds and lakes.
"It's an environmental issue whose time has come," said Matt Petter, President of Riveer Environmental. "Many of our customers began containing wash water years ago. Others are now recognizing the need."
Riveer's customers include municipalities rinsing street sweepers, dump trucks, salt trucks, and snowplows on a daily basis, construction sites focused on preventing harmful track out, and industrial facilities working to contain wash water. The U.S. military also uses Riveer Racks to decontaminate equipment and vehicles before they can reenter the U.S.
"Complying with all environmental regulations can be challenging, and different worksites require different solutions to meet this challenge," said Petter. "Riveer has years of experience dealing with industrial compliance issues and we always work to make sure our customers meet all requirements. We put extra effort into making sure that you receive a wash rack that will meet your unique needs."
Constructed of heavy-duty steel, Riveer Racks can be customized to meet the needs of a wide range of applications. The portable design eliminates the need for site engineering, and the deployable nature of the racks allows them to be moved from site to site, a feature very attractive to the oil and gas industries. Riveer currently has more than 1,000 wash racks in operation globally.
Low-profile Riveer Racks are available with a wide range of custom features, including vacuum water collection, drag conveyors for solids, water cannon, roofs and air handing systems. Riveer Racks boast capacities to 160,000 lbs., with higher capacities available.
# # #
About Riveer Environmental
Founded in 1983, Riveer specializes in designing efficient and environmentally compliant wash rack and rinse systems for military, industrial and commercial markets. Riveer is focused on designing easy-to-operate systems that outperform the competition and are compliant with all federal and local environmental regulations. Riveer systems can be found throughout the world, helping companies meet environmental regulations, keeping equipment clean, combating the never ending threat of corrosion, and helping to reclaim as much precious water as possible.
Riveer Environmental is headquartered in South Haven, Michigan. For additional information, visit http://riveer.com or call 269.637.1997
Read the full story at http://www.prweb.com/releases/2012/12/prweb10202124.htm