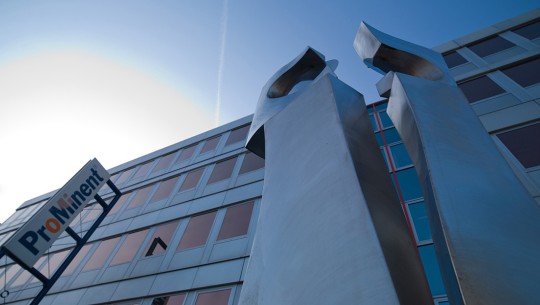 Solenoid diaphragm metering pump gamma/ XL - More intelligence and more connectivity
The gamma/ XL extends the performance spectrum of ProMinent's intelligent solenoid metering pump series gamma/ X. The gamma/ XL is as smart, easy to use and has the same long service life as its smaller sister model. With a higher capacity range of 8 to 80 l/h at 25 to 2 bar, the gamma/ XL increases the versatility of the gamma/ X product range and opens numerous new fields of application. The gamma / XL will be presented at BrauBeviale 2018, 13.-15. November 2018 in Nuremberg, on Stand 6-208 in Hall 6.
More intelligence and more connectivity
The new gamma/ XL is "Ready for Industry 4.0". Designed as a smart product, it can be connected to ProMinent's web-based fluid management platform DULCOnnect®. For the digital fluid management, the solenoid-driven metering pump includes integrated PROFIBUS® and CANopen interfaces for the connection to process control systems. Thus, the gamma/ XL allows you to monitor, analyse and optimise metering processes with ease. In this way, metering processes can be monitored in real time, avoid downtimes avoided and reports generated fully automatically. An additional highlight of the new gamma/ XL is its extended connectivity.
This minimizes the consumption of raw materials used, operating errors, and down times. At the same time, the customer service is improved through networking, transparency, and automation, and the timely delivery, maintenance, and repairs on site are ensured.