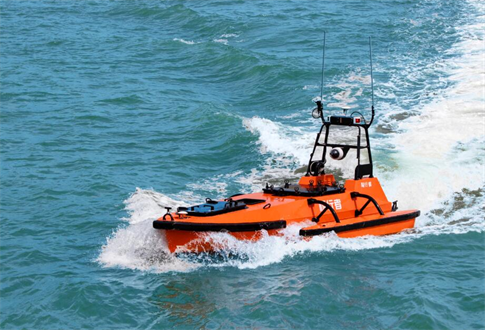 Unmanned technology unveiling the mystery of Antarctica — USV fills data gap for polar expedition
Not long ago, China's fifth Antarctic scientific research station – the Ross Sea Station officially laid its foundation stone on the Inexpressible Island(74°54'S 163°39'E). The full construction will take another 4 years to complete while preparation and research had already begun a few years ago.
In last November, four unmanned surface vessels(USVs) from Oceanalpha Co., Ltd teamed up with the Snow Dragon Antarctica expedition ship all the way south to the Ross Sea to assist the construction.
The USVs had been working for nearly 40 hours, completing a multi-beam full-cover seabed topographic survey of 5 square kilometers. This not only fills the data gap in the region but also provides spatial geographic data support for marine navigation and the construction of the new station.
Background: China to set up its fifth Antarctic research station
This is China's 34th Antarctic expedition aiming to build its fifth Antarctic station following the Great Wall Station, Zhongshan Station, Kunlun Station and Taishan Station.
The expedition team consisted of 334 members from more than 80 companies and organizations.
During the expedition, the team made full use of the ship-based, ice-based, and sea-based platforms to conduct joint observations on land, ocean, atmosphere, ice shelf and organisms. Their investigations will also help to establish the national Antarctic Observation Network, protect marine environment and control pollution around the station.
Oceanalpha's USV visit Antarctica for the first time
Changxin Liang, an engineer from Oceanalpha, was selected by the national expedition team last July. He boarded the mother ship, Snow Dragon, with two M80 USV and two SE40 USV to carry out the autonomous hydrographic survey mission.