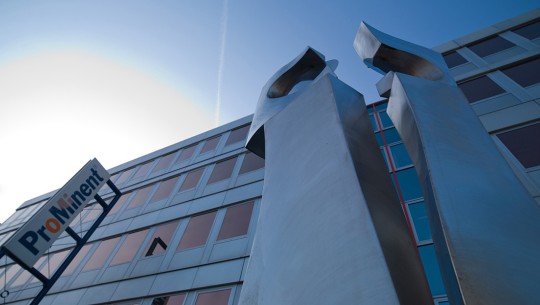 Safe and efficient
The new vacuum dosing system for 0 to 200 kg/h chlorine gas combines maximum safety with economy: Its electrical emergency shut-off system ensures additional safety. In the event of leaks, it automatically closes the chlorine gas source. ProMinent will be presenting the system at this year's aquanale 2019 in Cologne at Stand H041/G040 in Hall 6.1.
Chlorine gas disinfection is a cost-effective variant of water treatment. Complete solutions made of high-quality, proven standard components increase the longevity of the system. At the same time, they reduce operating and maintenance costs.
The system is a full vacuum system and guarantees maximum safety. The vacuum dosing regulator mounted on the chlorine gas container is opened by the vacuum generated in the injector. The chlorine gas enters the water to be treated. Adjustment valves control the dosing quantity and flow meters precisely indicate the chlorine gas flow.
Additional components such as motor control valves, injectors or vacuum switches enable a wide range of individual constellations.
Efficient dosing
For manual and automatic operation, the control electronics and precise measuring technology ensure efficient chlorine gas dosing. Thanks to the container empty signal and automatic switchover, uninterrupted disinfection is guaranteed at all times.
Made-to-measure solutions with maximum safety
The system components of the vacuum dosing system are supplemented by suitable safety equipment. The system is individually designed to meet customer-specific requirements. The applicable technical regulations for hazardous substances (TRGS) and local regulations are taken into account. All important safety standards such as DIN 19606, BGV D5/DGUV-V 50 or BGR/GUV-R 108 are fulfilled. The optimally matched components guarantee the high operational safety and reliability of the entire system.
Chlorine gas dosing - even safer!
In conjunction with a chlorine gas warning device, the emergency shut-off system ensures automatic and immediate closure of the chlorine gas source. As soon as a leakage occurs, a control unit sends the signal to close the actuators. They are mounted on the chlorine gas valves of each tank. They are closed within a few seconds. The electrically operated system is additionally protected against power failure by an uninterruptible power supply. The emergency shutdown system can also be manually triggered by an emergency switch located outside the storage room. After securing the environment and eliminating a possible leakage, the chlorine gas valves must be opened manually. The robust design makes the system virtually maintenance-free. Existing chlorine gas systems can also be retrofitted without any problems. Assembly and disassembly is carried out without tools and is suitable for almost all valve types for cylinders and drums.