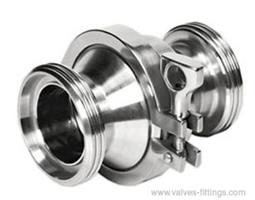 Application Sanitary check valve, also known as 'non-return valve', is designed for use in process piping installations to prevent reverse flow. AV-3T series is a spring check valve with threaded ends. Materials Product wetted steel parts: SS 316L / 304 Size: 1/2''-4'' O ring and gasket: EPDM, comply with FDA21CFR177.2600 Options O ring and gaskets can be Silicone or Viton, all complying with FDA 21CFR177.2600. Connection ends: butt-welded, sanitary clamp, threaded, flanged, union or others upon request. Working Principle A check valve opens when the pressure below the valve plug exceeds the pressure above the valve plug and the spring force. The valve close when pressure equalization has been achieved.
Most popular related searches
Sanitary check valves are different to many other types of valves, for check valves work automatically and most are not controlled by a person or any external control. Accordingly, most do not have any valve handle or stem. Thus there is an important concept in check valves, it is, the cracking pressure. Cracking pressure is the minimum upstream pressure at which the valve will operate. So the check valve is designed for and can therefore be specified for a specific cracking pressure. There are various types of check valves used in a wide variety of applications. Although they are available in a wide range of sizes and costs, check valves generally are very small, simple, and/or cheap.
The main material of sanitary check valves is stainless steel. Adamant valves manufacture series of stainless steel check valve. Our company can provide valve body and disc materials such as AISI 304 or AISI 316L, 304L and 316 materials according to your requests.